For over 200 years, the German city of Munich has been the epicentre for Oktoberfest celebrations across the world. The Bavarian celebration, which includes a funfair and limitless amounts of beer served in traditional steins, has seen many Bayern Munich stars join in with the festivities over the years.
The Reds' annual Oktoberfest get-together allows the club's biggest names to show off their style in lederhosen, something which has provided fans with more than a few laughs over the years.
Despite having a core of German – and in many cases Bavarian – players who should now be accustomed to wearing lederhosen, no-one has pulled off the traditional garb to quite the affect of former midfield great Xabi Alonso.
So, using the classy Basque as a yard stick, here's a look at seven Bayern Munich stars who've looked the best and worst during Oktoberfest over the years, ahead of this year's celebrations which begin on September 22…
1. Xabi Alonso – 2016
What better place to start than with the man himself, Xabi Alonso. 
Despite only spending three years at Bayern Munich before making the decision to hang up his boots for good, the World Cup and two times Champions League winner is undoubtedly the club's Oktoberfest MVP. 
Wunderbar.
Rating: 5 Xabi Alonso's out of 5.
2. David Alaba – 2017
Interestingly, the use of lederhosen as common workwear in Bavaria spread across the Alpine regions of Europe, and they even found their way into Austria.
It is perhaps for that historical reason that defender David Alaba stole the show in 2016 at Bayern Munich's visit to Oktoberfest, especially as the 26-year-old also wore a matching tweed jacket.
Rating: 4 Xabi Alonso's out of 5.
3. Thomas Müller – 2016
It wouldn't be a Bayern Munich list, let alone a Bavarian list, without a special mention of Thomas Müller. The Germany international first joined the Reds in 2000 after spending seven years with TSV Pähl, and he has gone on to make 444 appearances for the club across all competitions.
Just because of Müller's inate Bavarian-ness alone, the 28-year-old finds himself fairly high up on this list.
Rating: 4 Xabi Alonso's out of 5.
4. Arjen Robben – 2016
What a lot of fans might not know is that Arjen Robben's affiliation with Bayern Munich first started at the same time that Oktoberfest was introduced in Bavaria, back in 1810.
The veteran winger looks just as uncomfortable wearing a lederhosen as fans do whilst looking at him wearing it, and his style back in 2016 looks awfully similar to a young family member who has just raided the reduced suit section at Tesco for a last minute wedding purchase.
Rating: 2 Xabi Alonso's out of 5.
5. Douglas Costa – 2015
I take it Douglas Costa didn't get the memo that a Fedora isn't part of the traditional Oktoberfest look.
It could be at the flip of a coin in this picture as to whether the Brazil international is at an Oktoberfest celebration with his teammates, or if he's standing with some alternative music producers having just released his second album.
Rating: 2 Xabi Alonso's out of 5.
6. Mario Götze – 2015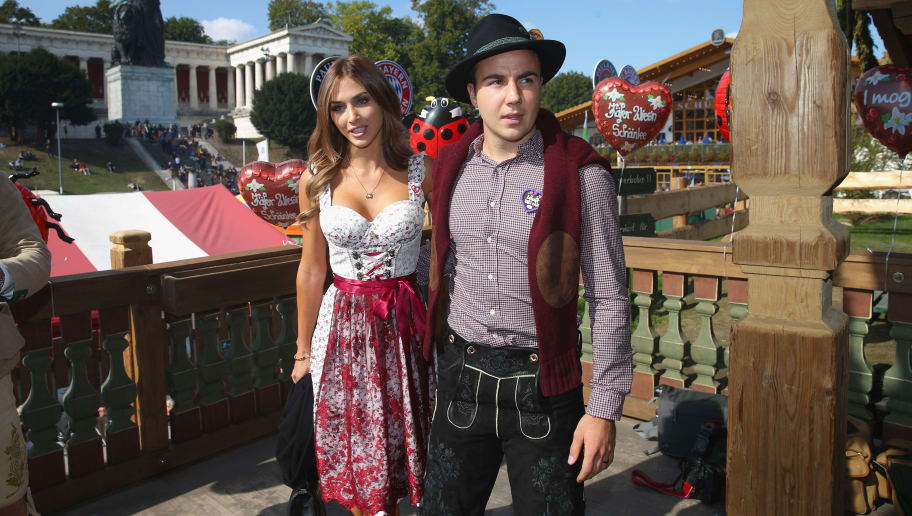 Someone's been spending too much time with Douglas Costa.
It's one thing for a South American flair player to rock up once a year in Bavaria wearing lederhosen and also paying tribute to Frank Sinatra with the headgear, but from Germany's World Cup winner Mario Götze… it's no wonder he was sold later that season.
What makes things even worse is that Götze's hat actually made him look more like a cross between Indiana Jones and Audrey Hepburn in My Fair Lady. Let's not get started on that cardigan either.
Sehr schlecht!
Rating: 1 Xabi Alonso's out of 5.
7. Javi Martínez – 2012
Javi Martínez certainly let the side down when, just six weeks into his career at Bayern Munich, the former Athletic Club star rocked up to Oktoberfest looking like this.
In his defence, the picnic blanket styled shirt is hardly a dapper look on any of the Bayern players, especially given that it was meant to be Oktoberfest after all, but his decision to wear that jacket hasn't helped Martínez's cause.
Fans of the experienced midfielder will be pleased to know that Martínez has certainly stepped up his game in recent years, but the 30-year-old should be haunted by his Oktoberfest efforts in 2012.
Rating: 0 Xabi Alonso's out of 5.
Let'