The Argentine was not too down after last weekend's loss at Espanyol, which is unsurprising given he's overseen a remarkable transformation in the Rojiblancos' fortunes since 2011
COMMENT
By Daniel Caballero
Given the number of elite coaches currently plying their trade in Europe, trying to decide upon the pick of the bench is nigh on impossible. What is undeniable, though, is that Diego Simeone now warrants comparison with such coaching luminaries as Jose Mourinho and Pep Guardiola.
Of course, in any conversation about the continent's finest trainers, it would be remiss of us not to mention Arsene Wenger. The Arsenal boss may have gone eight years without silverware (though that wait could clearly end this season, with the Gunners currently riding high at the top of the Premier League) but his name remains synonymous with good football and coaching excellence.
Simeone is a relative rookie compared to Wenger but his lack of experience has hardly hindered his remarkable transformation of Atletico Madrid since his return to the Spanish capital in December 2011. Saturday's 1-0 defeat at Espanyol may have been a disappointing way in which to mark his 100th game in charge of the Rojiblancos but there have already been countless highlights during the Argentine's short stay at the Vicente Calderon.
Guardiola, of course, won a treble in his first season in charge of Barcelona as he set about moulding a side that some argued was the finest of all time. But then, it was Mourinho who managed to break the Blaugrana's stranglehold on La Liga, in 2012. The Portuguese has won domestic titles in four countries, not to mention two Champions Leagues with two different clubs, Porto and Inter. Still, few would bet against Guardiola leading new club Bayern Munich to European glory this season.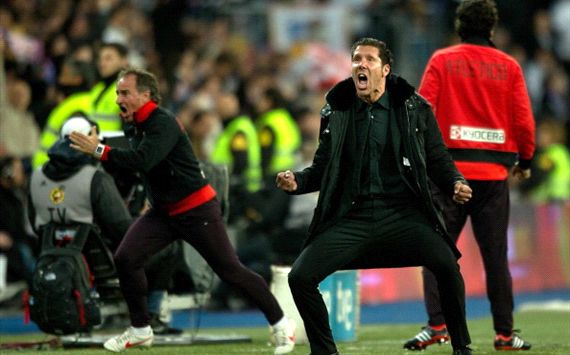 Riding high | Atletico have become a force to be reckoned with under Simeone
Wenger, of course, has never lifted the club game's premier prize. However, he is responsible for creating 'The Invincibles', who went through the 2003-04 Premier League season unbeaten – not to mention playing the most sublime attacking football. That latter point is particularly noteworthy, given Arsenal were renowned for their defensive tactics before the Frenchman's arrival in north London in 1996. He brought both flair and success to Arsenal.
Simeone has done likewise at the Vicente Calderon, and just as quickly. The former Rojiblancos midfielder took over a club in complete disarray under two years ago. Since then, he has led Atletico to three trophies: the Europa League, a Copa del Rey and a Uefa Super Cup, as well as establishing the club as a credible Liga title rival to Real Madrid and Barcelona.
In total, he has won 64 of his 100 games as Atletico boss. That is an impressive statistic. However, perhaps Simeone's finest achievement is that he has completely changed Atletico's mentality. As their successive victories at the Santiago Bernabeu have proven, they no longer have an inferiority complex when it comes to facing city rivals Madrid.
Consequently, the sky is the limit for not only Atletico, but Simeone. He might not be on the same level as Wenger, Mourinho and Guardiola just yet. But after just 100 games with Atletico, he's clearly getting there. And fast.