The veteran coach is on the brink of delivering the club an historic treble and must take credit for their resurgence this season
By Harsh Shah
It's not a bad time to be a Bayern Munich fan. Fresh from a record-breaking Bundesliga season, the Bavarians sealed their second Champions League title (fifth European Cup) on Saturday and have the chance to complete their treble this week and make up for years of near misses.
And credit must be given to their coach, Jupp Heynckes, who has masterminded their campaign brilliantly.
Just 12 months ago, Munich were reeling. Bayern had somehow managed to finish second in all three competitions, letting a hefty lead slip in the league, losing 5-2 in the DFB-Pokal final and enduring an agonising defeat on penalties to Chelsea in the showpiece of Europe's top competition.
And the backlash they faced was huge. Branded a team of chokers by the media, the Bavarians' hegemony within Germany was challenged like never before. They had gone two years without a major trophy, lost in two Champions League finals in three years. So much for German efficiency.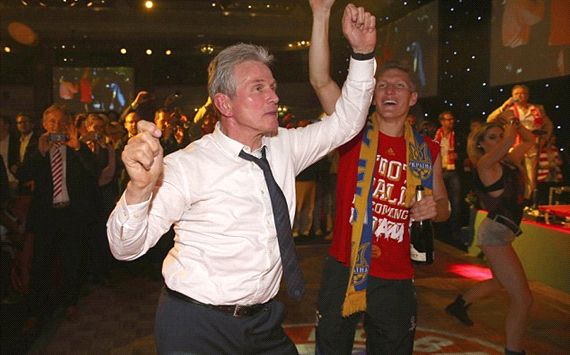 Jupp for joy | Heynckes has led Bayern to something truly special
So, a long, drawn out summer followed and the club did everything they could to put things right in 2012-13. This time, they meant business. Heynckes' first statement of intent for the season came when he signed Claudio Pizarro, Dante, Mario Mandzukic and Javi Martinez early on in the transfer window.
The quartet joined Xherdan Shaqiri, whose move to the Allianz Arena was confirmed midway through the previous campaign, and their squad, which was threadbare and had struggled to compete with their exertions on all three fronts, finally had some reinforcements.
ONE HORSE RACE | THE 2012-13 BUNDESLIGA
Of course, Bayern's technical and scouting staff had a major say in finalising these deals, but it was the Borussia Monchengladbach legend who would approve each transfer.
All five players have been indispensable. Mandzukic proved to be a harder worker than Mario Gomez and soon displaced the Germany star from the starting XI and Shaqiri provided able cover for Franck Ribery and Arjen Robben.
Dante was a commanding presence at the back in the absence of Holger Badstuber through injury and Javi Martinez was arguably the last piece in Bayern's midfield puzzle, complementing the likes of Bastian Schweinsteiger and Toni Kroos all season, giving them the freedom to roam.
And lastly, Pizarro performed brilliantly when he came into the team, giving Gomez and Mandzukic time to rest and contributing 13 goals of his own despite starting many games from the bench.
When the season finally came around, they came flying out of the blocks. Within 10 minutes of the start of their DFL Supercup tie with Dortmund, Bayern were 2-0 up, cruising to an eventual 2-1 victory.
What followed was almost inevitable. They lost just two games in all competitions before Christmas, were Herbstmeister (winter champions) in record time and finished top of their Champions League group.
"

Since one year ago, we improved and improved. We modified so many details. I was stricter with the details"

– Heynckes

January's announcement that Pep Guardiola would take over in the summer could have derailed their season, but like on countless occasions in the past, Heynckes' professionalism was at its highest, ensuring Bayern won every league game until May 4 – when they took a 1-1 draw from their trip to Dortmund.
And they were rewarded in early April. A 1-0 win at Eintracht Frankfurt sealed their first title in three years with six games to spare. They finished with 91 points, 98 goals and just 18 conceded. Extraordinary stats.
Their momentum didn't die down, though. They beat Juventus 4-0 over two legs and Barcelona 7-0 on aggregate to reach the Champions League final, comprehensively outplaying both teams and thoroughly deserving their victories.
And at Wembley, they capped their success with a 2-1 win over BVB. They had finally gone all the way and confirmed the long-awaited power-shift from Spain to Germany.
"Since one year ago, we improved and improved. We modified so many details. I was stricter with the details. I have to say, the players followed and there is harmony. You have to keep the players happy. Nobody wants to sit on the bench. Everyone wants to play," Heynckes noted. It was all his making.
And so, in many ways, this has been the best season of Heynckes' career. In his 50 years in football, he has won a host of trophies as both player and coach. He has carried himself with dignity in the face of adversity and he has the chance to end his time as a trainer in Germany in style when Bayern face Stuttgart in the DFB-Pokal final on Saturday.
Whether he decides to call it a day remains to be seen, but this has truly been his campaign. And in typical style, he is keeping us guessing. "Retire? No, you will learn about all that only after the cup final!"
Follow Harsh Shah on