The Catalans were outclassed and outfought by Bayern at the Allianz Arena on Tuesday. Now, lessons must be learned from the club's most damaging defeat in several years
COMMENT
By Ben Hayward | Spanish Foootball Writer
Lionel Messi cut a forlorn figure. The Argentine's appearance in the starting XI at the Allianz Arena on Tuesday night was confirmed following an announcement two and a half hours before kick-off that he had been given the green light by medical staff to turn out against Bayern Munich. But he wasn't ready for what came next – and nor were Barcelona.
Bayern were not interested in becoming the first team in over 300 games to edge out Barcelona in terms of possession. Instead, Jupp Heynckes' men allowed the Catalans to have the ball for much of the time, albeit only in areas where they could do little damage. And that applied, more than anyone else, to Messi.
The Argentine was quickly surrounded or challenged every time he touched the ball and was forced to drop deeper and deeper as the game wore on in an attempt to influence proceeedings – always a sign that things are not going according to plan for the four-time Ballon d'Or winner.
Messi found himself immersed in a physical battle he would not have relished after forcing his way back from the hamstring injury he had suffered in the first leg of the quarter-finals against Paris Saint-Germain last month. Bayern pressed incessantly and if Leo found his way past one man, he could not get past two as crunching challenges came in and well-timed tackles denied the Argentine the space he craves.
Quite clearly, Messi was not himself. Ready or not, he had not been able to influence the game as he would have wanted, a lost look of bewilderment etched on his frustrated face. This was not what he had planned.
But it was what Bayern had planned. In the end, Messi did not touch the ball once in the Bayern penalty area in the entire 90 minutes. The man who had hit 73 goals last season for Barca and who already has 57 this term for the Catalan club did not come close to adding another.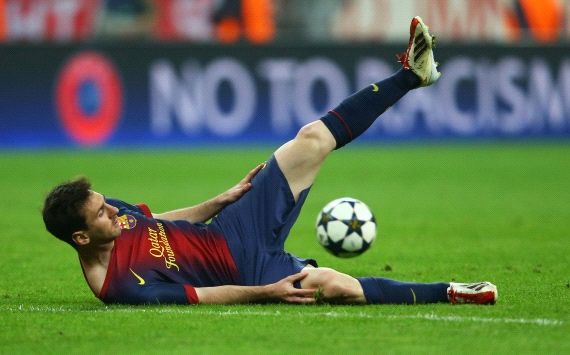 Floored genius | Messi endured one of his toughest European evenings
Later, in the mixed zone, Messi claimed he had felt fine to play. "I felt good," he said. "I hadn't played for two weeks and I wasn't at my best physically but with the injury I felt good." His actions, however, spoke louder than his words. His performance, pallid, almost unrecognisable, told a different story and Josep Maria Minguella, the agent who helped broker Leo's signing for Barca as a talented 13-year-old, claimed the forward should not have taken part. "Messi's father told me at lunch time that he wasn't ready to play," he told COPE on Tuesday night.
Indeed, the Argentine covered less ground (7,409 metres) than any of his team-mates, although this can also be the case when he is fully fit, conserving his energy for short, sharp surges into the area. There was no such thing on Tuesday and instead of the huge psychological lift a limping Leo had handed Barca in the quarter-final second leg against PSG when he came on as a second-half sub to save the day, seeing their main man present but powerless in this game seemed to have the opposite effect on his team-mates.
And as Messi struggled, his team-mates toiled too. Bayern also stifled Pedro and Alexis Sanchez on the flanks with alarming ease and in midfield, Andres Iniesta offered only glimpses of his brilliant best as the Bavarians hustled and harried.
Xavi's influence was also restricted as Bayern closed the gaps to stop the Catalans' pass master from finding his team-mates in advanced attacking positions. And the midfielder made no excuses after the game. "It is the worst result ever," he lamented. "They were superior physically and we have to admit it. We will try to produce a miracle, but it's almost impossible."
And Gerard Pique was in agreement. "They were faster, stronger and played better football – they gave us a runaround," he said afterwards. "It's almost impossible."
His central defensive partner Marc Bartra, however, claimed a comeback in the second leg was achievable. "We did it against AC Milan [in the last 16], so why not this time?" he asked.
But Bayern are a far superior side to the Italian team and will head to Camp Nou with a formidable four-goal lead, knowing that should they net once, Barca will need to score six. It isn't going to happen.
The Munich side have already claimed the Bundesliga by a record margin this term and handed a team often spoken of as the finest in history a terrible thrashing on Tuesday. On this form, the German side will look to build a dynasty as Pep Guardiola takes over from Heynckes as coach in the summer.
How he will improve them is another question as the German side stunned the Catalans with a performance unmatched by any other Barca rival in recent years. "Only one of these teams need Guardiola," Gary Lineker commented after the game. "And it isn't Bayern."
In 247 competitive matches under Pep between 2008 and 2012, Barcelona never lost by three goals, let alone four, and only once let in four – the 4-3 league loss at Atletico Madrid in March, 2009.
And in tough fixtures such as this one, Guardiola usually had an alternative, a tactical switch in attack or defence, a surprise selection – something the opposition would not be expecting. By comparison, Tito Vilanova's tactics were sterile and subdued on Tuesday – and he failed to react when things began to go so very wrong.
David Villa came on for Pedro with seven minutes remaining, but Barca were already three down by then and it was too little, too late. That was the only change as Cesc Fabregas stayed on the bench for the entire 90 minutes. And Cristian Tello, the exciting winger who has injected pace and goals in recent games, did not even make it that far.
Vilanova is recovering from cancer and back with the team after treatment in New York earlier this year, yet question marks remain over his long-term health in a high-pressure role and it may be he is waiting to bow out with La Liga in the summer.
Whether he stays of goes, there is much to address. Perhaps Pep knew something he did not. Certainly, Barca continue to pay the price for their failure to sign a centre-back in the summer. With Carles Puyol unfit and past his best, Javier Mascherano sidelined, Adriano suspended and Eric Abidal still finding his feet after a return from his own cancer, Bartra was entrusted alongside Pique on Tuesday. Yet the youngster has barely featured all season and it was unfair to thrust him into such an epic encounter, while his fragile frame never looked likely to hold up against Bayern's big guys either. And so it proved.
Elsewhere, Jordi Alba was caught out far too often on the left, Pique poorer than he has looked for a long time (also missing the leadership of Puyol) and Dani Alves simply atrocious. The Brazilian may be brilliant going forward, but he is not a defender by any stretch of the imagination and he was partially responsible for three of Bayern's goals on the night.
Against teams like FCB, Real Madrid or Chelsea (who knocked out Barca in the semi-finals last season), specialist defenders are necessary. The likes of Mascherano, Adriano, Alves et al may be good enough for most matches and rivals, but they can be shown up against the very best. So this summer, a long-term replacement for Puyol should be the top transfer target for the Catalan club, as it should have been last year, when Alex Song signed instead.
Bayern's second goal had been slightly offside, while a clear foul on Alba by Muller gave Arjen Robben a free run to net the third and Dante also climbed on Alves in the lead-up to the opener. "We have had bad luck with referees in the knockout stages," Vilanova's assistant Jordi Roura remarked afterwards.
But he shouldn't have. Barca were well beaten; outpaced, outclassed, out-thought and out-muscled by a brilliant Bayern side who could consider themselves unlucky not to have been given one or perhaps two penalties for handball in the early stages of the game. The Catalans cannot have any complaints about the result – they deserved their brutal beating.
So what next? With Messi at full fitness, it may not have come to this, but Barcelona must learn to operate when their star man is stifled (which seems to happen more often in the biggest games now), while the defensive debacle needs to be addressed in the summer, along with the coaching situation and much, much more.
On the face of it, this will still be a special season, with La Liga to come and two semi-final showings (in the Champions League and the Copa del Rey) hardly a failure. This team have become accustomed to winning, however, and while the Chelsea loss last season looked like a freak result, the Catalans really were second best on Tuesday. And perhaps the biggest lesson Barca can learn from Heynckes' brilliant Bayern is their collective strength. For the Blaugrana, meanwhile, it has become more and more about one man – and he cannot do it all alone.
Follow Ben Hayward on