The United States international is desperate to break through at Allianz Arena and get playing time at the club where he's grown up rather than going out on another loan
---

EXCLUSIVE
---
Two years ago, Julian Green's success looked like it had no bounds. After getting a UEFA Champions League cameo with Bayern Munich, the then 19-year-old went to the World Cup with the United States.
After soaking up the experience of the group stage, United States manager Jurgen Klinsmann turned to Green with the Americans down against Belgium in the first knockout round match. Green scored to pull a goal back, something he said "was or is one of the best moments of my life so far."
That future could still come to pass. Green may still have the best years ahead of him. But there's been a fair dose of reality injected into the dream of limitless triumphs on the football field.
In 2015, Green had a loan stint with Hamburg that did not go as he had hoped, logging only five appearances with the first team before returning to Bayern Munich II. Bayern is a difficult team to break into for any player, especially a young one yet to find a rhythm with a club's first team.
Now, the 21-year-old has an opportunity in front of him with Robert Lewandowski and Thomas Muller both resting up after the Euros. Green has seen plenty of preseason action, including a start Wednesday against Milan.
For the attacker, proving to manager Carlo Ancelotti that he can stick with his squad rather than again go out on loan or transfer to another team is absolutely vital.
"It's very important," Green told Goal. "I've played here since I was 14 years old, so Bayern has always been my club. I grew up near Munich, so i was a big fan when I was a child. Bayern was always my club, so it's very important for me to make it here.
"I know it's hard, but I also know that it's not impossible."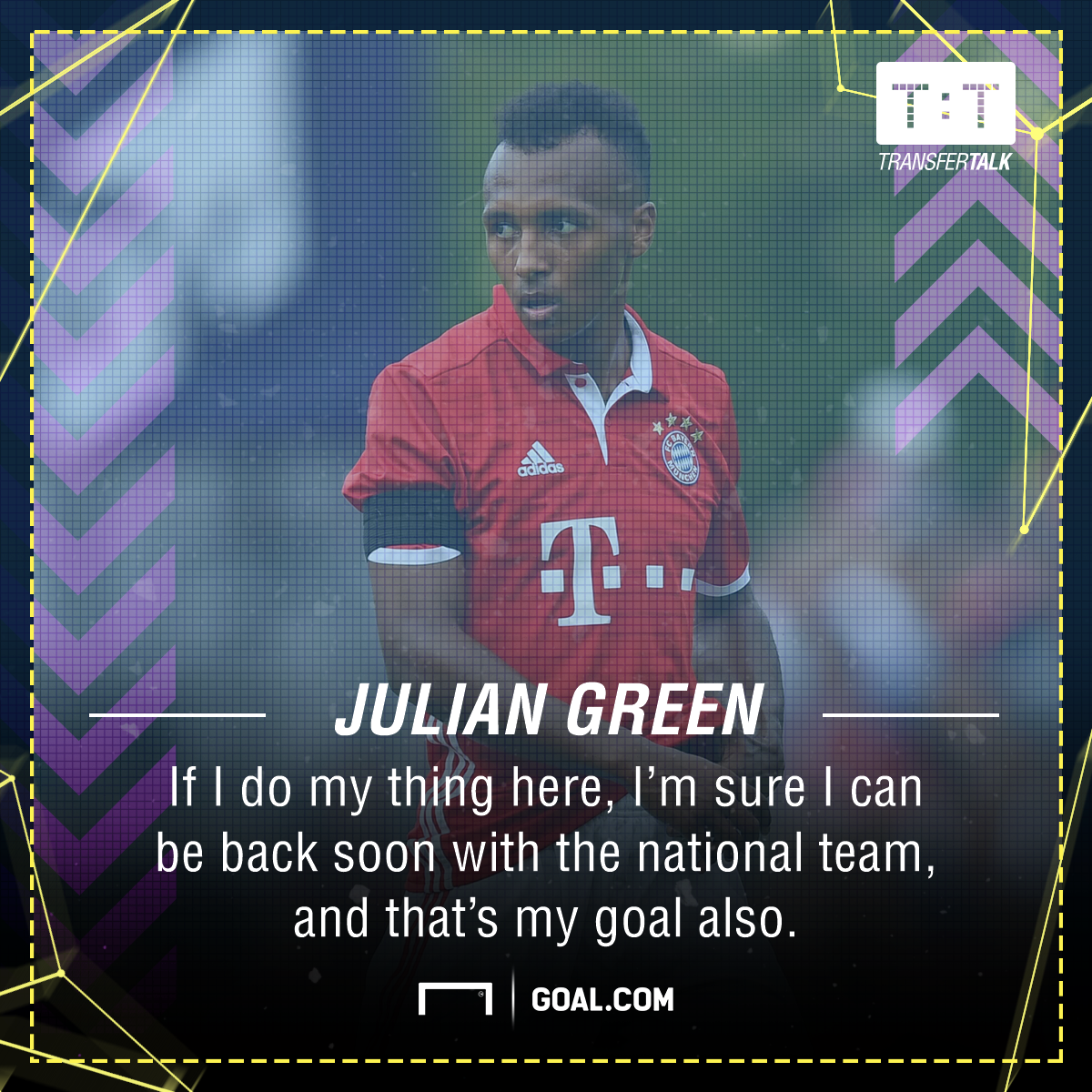 The lack of action at club level looks to have contributed to a slide in Green's national team prospects. Since 2014, the year in which he scored at the World Cup, Green has seen action in only one match with the senior team. That came in May against Puerto Rico that the US used to bridge the gap between the end of the European and Mexican seasons and the beginning of the Copa America Centenario.
While Green says he occasionally is in touch with Klinsmann and US assistant and U-23 coach Andi Herzog, he has a clear idea of what he needs to do to return to playing for the Stars and Stripes.
"The most important thing is to play. Right now I don't think about that, I think about now, about Bayern," Green said. "If I do my thing here, I'm sure I can be back soon with the national team, and that's my goal also."
A player getting minutes at Bayern would be tough for Klinsmann and Co. to ignore. Green had already vaulted into the mainstream American conscious when Klinsmann selected him to go to the 2014 World Cup, and first-team minutes would only raise his profile even more. While Green won't supplant players like Lewandowski and Muller, the early indications are that Bayern Munich manager Carlo Ancelotti is happy with what he's seen from the attacker.
"I think he's doing really good this season," Ancelotti said before the Milan contest. "He played the game that we played, did well, scored a goal in the first match, worked really hard in all the games and we are going to see what happens with him. He's with us, and he has to continue to work hard to improve and I think that he will be important for us in the season."
For now, Green is trying to soak up the lessons the new Bayern boss is hoping to impart. Ancelotti's list of players he's helped spring to success is not a short one.
"I think I can learn very much. He has a lot of experience," Green said. "He worked with top players, top teams, so I can learn every day from him. He's a really good coach, he's a really nice guy as a person. He's a perfect coach to me."
With the perfect coach at his dream club, Green will hope he can continue to make a good impression during the preseason. Bayern meets Inter on Saturday before closing out their US tour with a contest against Real Madrid.