The German midfielder is playing a high-risk game in attempting to tease a new contract from Bayern, while exciting times lie ahead for football in the US
COLUMN
By Peter Staunton
Kroos playing high-risk game with Bayern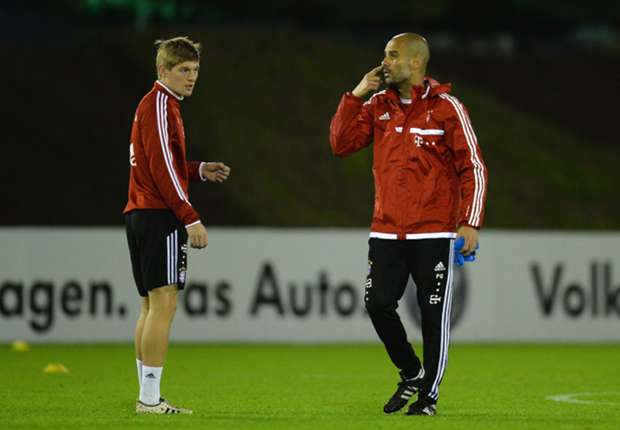 Toni Kroos is a very good player but he can be easily replaced by Bayern Munich. He would do well to bear the latter point in mind. Pep Guardiola left the Germany midfielder on the bench for the recent Bundesliga victory over Eintracht Frankfurt and Bayern were none the poorer for his absence. They won 5-0. Joining him on the sidelines for that match was Thomas Muller, who had this to say on any team-mate who thought about complaining. "There is no room for selfish behaviour at Bayern," the Germany forward told the press after the game.
Thiago Alcantara, Bastian Schweinsteiger and Javi Martinez have not started once together in the Bundesliga this season. Therefore, it could be argued that Bayern have not had their 'first-choice' midfield together on the pitch. Kroos, as a result, has played perhaps a more important part than expected in the Bayern success story thus far. But with Philipp Lahm dominating the midfield for Bayern this season, Kroos has, and will always have, plenty of competition in there for a starting role.
It is clear that his recent stance regarding a contract renewal is aggravating for the club. Guardiola has publicly adopted a "here today, gone tomorrow" attitude towards Bayern's No.39. While Pep has indeed preferred to start with Kroos this season, he is nonetheless willing to remove the 24-year-old whenever he deems necessary without affecting his team's output. That should be a cause of concern for Kroos as he takes on the third-richest club in the world in a high-stakes game of contract poker.
Kroos's current deal expires in the summer of 2015 and he wants improved terms. Among the middling earners at Bayern, Kroos has yet to resolve this standoff and is reported to seek around €8 million per-annum to commit to a new deal. Adding to the brinkmanship over a new Bayern contract is the reported interest from Manchester United, whose deficiencies in midfield are abundant and whose manager David Moyes is known to have seen Kroos in action in January. Kroos can now play up the attentions of United to Bayern and use it as collateral in his quest for an exceptional deal.
"Much has been written, especially in the last few days, about my sporting future," Kroos wrote on Facebook this week. "The fact is I am very happy to play for Bayern and my position in the team is very good. The fact is also that we couldn't agree a new contract.
"Since it runs until 2015 this is not a big problem, and we will see what the future brings. My focus is on the sport side of things and we will do everything possible to complete the season as successfully as last season."
Kroos can be described as a homegrown prospect having joined Bayern from Hansa Rostock as a 16-year-old. He is among that next wave of talent bred at Bayern following in the slipstream of Lahm and Schweinsteiger; a generation that includes Muller and David Alaba. The problem that Kroos has in his attempts to draw more money from Bayern is that his place in the team, while merited, is not yet integral.
Bayern, whose revenues according to the Deloitte Football Money League have grown to €431m, have the means to meet any offer that Kroos deems acceptable. Is Kroos worth the kind of money he seeks? Probably. Does he have the right to extract his maximum worth through what is a short career? Absolutely.
But don't expect Bayern to see things the same way. In this power play there will be only one winner. Bayern have not made their fortune in the last few years by kowtowing to player demands. Quite likely is that Kroos will overplay his hand and end up leaving Bayern, a club that in a football sense suits him perfectly, for an inferior team.
Bayern will have no qualms about making an example of Kroos to show other players on the staff that no player is bigger than the club. There are a few players that cannot be replaced, but Kroos is not one of them," as the former Germany international Gunter Netzer wrote in his Bild column this week.
NYCFC & Miami could finally give MLS its 'Clasico'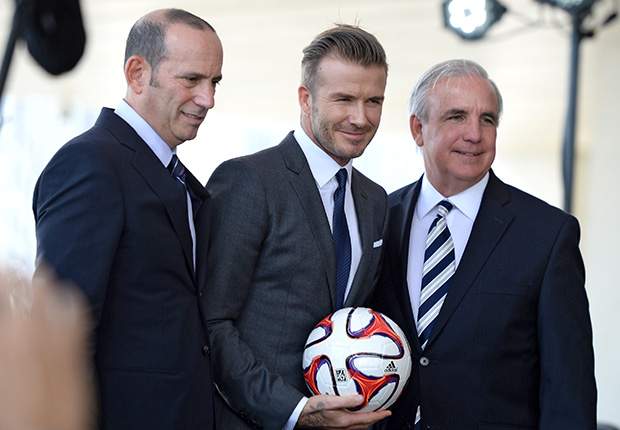 Two events on the United States football scene caught the attention this week.
First, leaked images showed New York City FC's tentative plans to build a soccer-specific stadium on Manhattan's Pier 40, just a stone's throw from Central Park. NYCFC's Manhattan plans, backed by New York Yankees and Manchester City, are ambitious and by no means a sure thing at this stage. But with the spectacular New York skyline as a backdrop there would be no more glamorous arena in the football world. What player would not want to be part of it?
New York Red Bulls have not truly engaged the locals of New York because they do not actually play there. Instead they play in Harrison in New Jersey, away from the bright lights and the heavy footfall of downtown Manhattan. Likewise, the reborn New York Cosmos play nowhere near there either. NYCFC will be playing MLS football by 2015 and already boast one of the American game's finest coaches in Jason Kreis.
Combined, Manchester City's backing and the potential for star-name attraction could engender MLS's first super club.
The #myNYCFC social media campaign was well timed to coincide with, or distract from, MLS's other major development this week.
You can't have missed David Beckham, Miami-Dade County commissioner Carlo Gimenez and MLS commissioner Don Garber announcing MLS's expansion into Miami. Beckham, who was entitled to buy an MLS franchise at a knockdown price, is going into business with Bolivian billionaire Marcelo Claure and is attempting to break Miami's notoriously picky professional sports market. There are a lot of issues to surmount, not least a team name, before Miami finally come back to the MLS fold since the exit of the Miami Fusion in 2002 due to financial difficulties.
Claure and Beckham spoke about the need to make a Miami team an attractive prospect for locals, who, evidently like football, but are not certain to support their own team in the city. Last summer's friendlies, between Real Madrid and Chelsea and Brazil and Honduras, drew fans in their droves showing that the thirst for high-quality football exists in the region.
The new ownership duo stated their desire to have the team play in the downtown area; this is one of the issues on which the Fort Lauderdale-based Fusion failed. They spoke about the need to bring more than just football to the stadium – that is where fellow investor Simon Fuller, creator of American Idol, comes in.
The expansion of MLS into what will soon be a 22-franchise competition, will mark it out as one of the world's most-watched leagues.
If Manchester City and New York City FC hit the mark in the Big Apple, and Beckham does similar in Florida, then America could have its very own Clasico duo to lead its quest to make MLS globally relevant and attractive to players in their prime. The signings of Michael Bradley to Toronto showed that the fiscal prudence that defined MLS in its early days is less restrictive and if teams have the money then they are entitled to spend it.
There will be no shortage of currency on offer in New York or Miami to make that happen.
Follow Peter Staunton on