The brilliant Bavarians have broken many of the records they set just one season ago and will statistically be remembered as the German league's best ever side
COMMENT
By Enis Koylu
How do you go about topping a record-breaking season? Bayern Munich entered the 2013-14 campaign on the highest of highs having just realised their long-standing ambition. They had finally reclaimed the Champions League after 12 years as part of an historic treble and were now being led by one of the world's most admired coaches in Pep Guardiola.
In all honesty, it would have been easy for the Bavarians to rest on their laurels. Though Borussia Dortmund put up some early-season resistance, a title challenge from the Signal Iduna Park-outfit was always unlikely following the loss of Mario Gotze – to Bayern – while Bayer Leverkusen and Schalke looked even less equipped.
Sure, there were some early wobbles. A 4-2 loss to BVB in the DFL Supercup in August was a wake-up call for the task ahead and Guardiola's tweaks to the winning formula did not work immediately, as a couple of limp performances in August and September testify.
Perhaps the turning point was a 4-0 win over Schalke. Let off the hook by some poor finishing in the opening stages, Bayern seemed to remember who they were and romped to victory in a display defined by the ruthlessness of champions.
And they have not looked back since. Just two points have been dropped and countless opponents have been swept aside with a flurry of goals. But it's not just relegation fodder like Eintracht Brauschweig who have felt their wrath. They knocked nine goals in over the course of their two games with S04 and put seven past Wolfsburg.
The pick of the lot was perhaps the 3-0 demolition of the then-unbeaten-at-home Dortmund at the Westfalenstadion – effectively killing off Jurgen Klopp's lingering title hopes as early as November. This ended a three-season winless run in the Bundesliga against BVB, though you do wonder what might have been if the hosts had had the majority of their first-choice XI available.
Of course, Bayern's detractors will point to their economic superiority as the determining factor in their domestic dominance. It is true they can afford more players and, crucially, gift them bigger wages than any of their rivals. However, Bayern, too, have faced their fair share of adversity.
Early in the season Guardiola was heavily criticised to a degree to which he was unaccustomed but, to the Spaniard's credit, he stuck to his tactics and they are paying dividends now: Philipp Lahm looks an accomplished midfielder and Rafinha a shadow of the player who was a laughing stock for the last two seasons.
They have struggled with injuries at times as well. Gotze, their marquee signing, started the season on the sidelines and took time to get into his stride. Since then, Arjen Robben, Franck Ribery and, most notably, Bastian Schweinsteiger have all spent time out of the team.
Toni Kroos and Mario Mandzukic, two players who were absolutely instrumental in their successes last term, have been heavily linked with moves away from the club; the former even took to Facebook to express his frustration with how contract negotiations were going.
Bayern truly lived up to their FC Hollywood billing this term. Uli Hoeness had been at the club for more than 40 years as both player and director but was imprisoned in a lengthy and controversial tax evasion scandal.
He was the architect of the majority of their success over the past four decades and the principal reason Guardiola was at the club; it would have been easy for Bayern to let the Hoeness case derail them. But their response? A 2-1 win over Bayer Leverkusen, the last team to beat them in the Bundesliga and something of a bogey team in recent years.
VIEW FROM GERMANY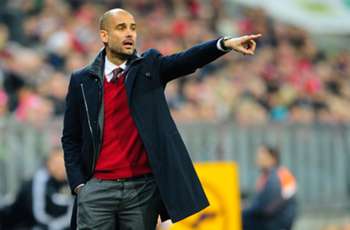 By Christoph Kockeis | Goal Germany

Many scoffed when Uli Hoeness angrily ranted about how his team would "never accept second place" after losing the Champions League final in 2012 but their transformation since then has been remarkable.

Bayern have been simply merciless in their pursuit of perfection and their triumphs and achievements over the last two years will live long in the memories of football fans worldwide.

They have not just become the best team in the world but a major player in the transfer market too and their upcoming Champions League and DFB-Pokal commitments give them the chance to make history.

The empire is back.
Dortmund claimed the Bundesliga points record in 2011-12 and were promptly blown out of the water by Bayern last term, but the Bavarians are on course to smash their own personal best this campaign and Klopp himself is aware of what his team are up against.
"It's totally unrealistic [to keep up with Bayern]. We do not take dissatisfaction that another team is so good," he said earlier this year. "Go through the world and find me a team who can finish champions in the same league as Bayern. Manchester United? No chance. Manchester City? No chance. Barcelona? Maybe. Real Madrid, no chance."
The greatest ever margin in a final Bundesliga table between first and second place was last term when 25 points separated Bayern and BVB. This year, Bayern are X points ahead of Dortmund with X games to go – with a meeting between the two sides at the Allianz Arena to come. No German team has ever won the league so early.
They are now just X off the landmark tally of 29 wins they reached last year and could well break the record for most goals in a season, set by Gerd Muller's 1972 side.
So the question is: has there ever been a greater champion in the Bundesliga? It's certain that no one has ever won it in such emphatic fashion, which is all the more admirable given the scandal surrounding Hoeness.
Bayern's most glorious period has always been cited as their period of immense success in the 1970s, when the likes of Muller, Franz Beckenbauer and Sepp Maier won three straight European Cups.
But not even that legendary squad dominated the Bundesliga like today. Domestically, the class of 2014 are in a league of their own.
Follow Enis Koylu on