The Bavarians are a brilliant team but the attitude of their rivals leaves a lot to be desired, while Barcelona face up to life without one of their most important players
COLUMN
By Peter Staunton
Too many teams in the Bundesliga are satisfied with mediocrity. It suits the rest of the field to paint Bayern Munich as some sort of super-team, incapable of being caught. To do anything about Bayern running away with the league with seven games to go would be too much like hard work.
Bayern have been dominant plenty of times before. They have won the Bundesliga about once every second season since its inception. German football has traditionally been about Bayern versus someone else; Borussia Monchengladbach, Hamburg, Borussia Dortmund. This rampaging supremacy is not new.
But the surrendering is. It's inappropriate for opposition coaches to give up and say they are too good. "We see you, but actually we need a telescope," Dortmund's Jurgen Klopp told German media after the insipid 0-0 against Schalke midweek.
There is now a culture of acceptance about the Bundesliga. Bayern are too good so let's not bother even trying. Yes, Bayern are good. But they are not supermen. They are playing highly-effective football and playing it diligently. Is what they are doing really that far beyond the reach of other teams?
By ascribing this invincibility to Bayern, clubs in the Bundesliga have absolved themselves of the responsibility of actually doing anything about it. Yes, the Bundesliga is easy for Bayern. But Bayern are not the ones who have made it easy. They have been handed their mandate to rule through the attitude of defeatism on the part of their so-called rivals. That is why they are dominant.
Considering all four German teams emerged from the Champions League group stage, what's holding them back from competing domestically or making waves in Europe? There is a great untapped potential within the Bundesliga. There are clubs on top of potential goldmines. But at the sharp end the teams continue to pick the wrong men to lead. Inept, inexperienced, incapable coaches. All except Bayern. Their last three coaching appointments have been men of pedigree, Champions League winners.
Jens Keller's rudimentary tactical failings have left Schalke punching below their weight. His players are better than their recent humiliations against Bayern and Real Madrid suggested. Real are good but not 9-2 good as Sevilla showed recently.
Sami Hyypia is learning on the job at Bayer Leverkusen. They are a Champions League team with a novice at the helm and have been treated as such by Manchester United and Paris Saint-Germain.
What are Wolfsburg hoping to achieve appointing Dieter Hecking to coach an ambitious and talented group of players? He's kicked around the Bundesliga for years with no great impact.
Lucien Favre was the man to steady the ship at Borussia Monchengladbach but has repeatedly failed to make an impact in Europe with them.
Jurgen Klopp and Pep Guardiola aside, these are the coaches at the top teams. None of them are in demand. None of them proven, title-winning coaches.
Beneath the huddle of top teams, Markus Weinzierl at Augsburg and Thomas Tuchel at Mainz are evidence of clubs doing things the right way. They are, in a sense, serving coaching apprenticeships at clubs which suit them perfectly. The clubs and coaches will serve each other well until one outgrows the other. Those two are going places and to have put them in charge of bigger teams before their time would have been damaging.
It's at the clubs of a higher footing where the relative novices need to be dispensed with. The Bundesliga has an admirable player development record and a sensible transfer policy for the most part but it falls down in finding the right coaches for its clubs at the top end. It is commendable that indigenous coaches are given the opportunity to work straight away at clubs in the league but look at, say, Brendan Rodgers and Roberto Martinez. They have earned their way into those jobs at Liverpool and Everton.
What is the barometer of success? Hanging on Bayern's coattails, hoping to finish at most three places behind them and emerging from the group stages in Europe? Because if it is, that is cowardly. It's one thing running clubs like businesses but on a sporting level the bar must be set higher.
The German league has made great strides in recent seasons. There is a lot of virtues to extol and a lot to be proud of. But let's not have a one team league and pretend it couldn't be any different.
Barca are not Barca without Valdes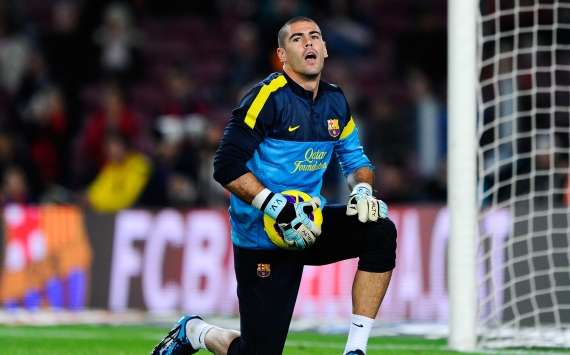 If Diego Simeone could hand-pick one Barcelona player to sit out their three upcoming clashes – two in the Champions League and one all-or-nothing showdown in la Liga – it's fair to say it would be Lionel Messi. If he were to pick another, however, it would be no surprise if he opted for Victor Valdes. Due to the unfortunate knee ligament injury he suffered in midweek against Celta, that is about to transpire.
As much as Gerardo Martino relies on Messi at one end, he is as reliant on Valdes at the other. Messi the false nine; Valdes the false No.1. No other goalkeeper in the world could play as effectively in the Barcelona goal as Valdes and life without him for the next two months will be difficult to endure.
Playing in goal for Barca is a thankless task. Most of the time, Barcelona have the ball and so many reckon they could probably stand in the goalmouth themselves clearing the odd ball from harm. To think so is to fundamentally misunderstand what Valdes has become over the course of his career.
It is said that the father of Total Football, Rinus Michels, in the 1970s toyed with the idea of putting an outfield player in goal in order to better control possession. Well Pep Guardiola achieved almost just that in his utilisation of Valdes.
He is a passer first, a shot-stopper second. Barcelona go back to him to instigate passages of possession and he boasts equatable ball control and passing range to many outfield players. Replacing him on a permanent basis is one thing – Barcelona are preparing the ground for that and will work out a system between now and the start of next season to insure against his loss.
In the short-term, though, they are in big trouble. When Messi was injured, Neymar deputised capably. Jose Pinto is a decent goalkeeper but he needs to be much more than that to stand between the sticks for Barcelona.
Victor Valdes is irreplaceable and Barcelona will struggle to meet their season expectations without him.
Follow Peter Staunton on