The Portuguese coach and Swedish striker only spent one season working together at Inter but they continue to hold one another in the highest esteem
COMMENT
By Mark Doyle
Break-ups are never easy. Zlatan Ibrahimovic discovered this when he decided to leave Inter for Barcelona in 2009. Just before his departure, the striker came face to face with then coach Jose Mourinho at the team hotel in California the day after a pre-season friendly against Club America.
"I noticed he was furious and upset," Ibrahimovic wrote in his autobiography, 'I am Zlatan'. "He didn't want to lose me, and he had put me on the bench for that training match, and I was feeling it too: no matter how happy I was to be going to Barca, it was sad to leave Mourinho. That guy is special."
Mourinho, of course, essentially christened himself 'The Special One'. But Ibrahimovic would quickly conclude that it was a most fitting moniker. Indeed, the attacker realised that Mourinho was not like other coaches even before they had met in person for the first time.
During the summer of 2008 the Sweden international was representing his country at the European Championship. After his country's group clash with Spain, he received a message from Inter's new boss.
"I get a ton of texts all the time," the forward explained with characteristic hubris. "But this one was from Mourinho. 'Well played', he wrote, and then gave me some advice, and I promise you, I stopped in my tracks. I'd never had that before. A text message from the coach!
"I replied and got more messages. It was like, wow, Mourinho's checking me out. I felt appreciated."
Ibrahimovic knew full well why Mourinho was sending him those texts ("He manipulates players like no one else … He wanted my loyalty") but that did not make him any less receptive to the Portuguese's flattery.
Mourinho quickly built strong emotional ties with every player in the Inter dressing room with his attention to detail on and off the field. The former Porto boss knew everything about the opposition full-back – but he also knew everything about his players' families.
"I rate him as one of the best players I have ever coached

"

– Jose Mourinho

"He's nice," Ibra explained. "The first time he met Helena [Ibra's partner], he whispered to her: 'Helena, you have only one mission. Feed Zlatan, let him sleep, keep him happy!' That bloke says whatever he wants. I like him. He's the leader of his army. But he cares, too.
"He's the exact opposite of [Pep] Guardiola. If Mourinho lights up a room, Guardiola draws the curtains. I guessed that Guardiola was trying to match up to him."
It is, of course, impossible to talk about Ibrahimovic's unique relationship with Mourinho without bringing up Guardiola. They are the two coaches with whom he will forever be most associated. Whereas Ibra took to the Portuguese even before they had met, the Malmo native was immediately suspicious of the former Barcelona coach's man-management.
Mourinho was warm and engaging. Guardiola was apparently cold and distant. Mourinho made Ibra feel important. Guardiola made Ibra feel like he was "different". Ibra initially tried to toe the line at Camp Nou but it was only a matter of time before the 'real' Zlatan stood up.
After allegedly having been made to feel like he was to blame for Barca's Champions League semi-final exit at the hands of Inter, Ibrahimovic finally let rip at Guardiola after a Liga game at Villarreal.
"I yelled, 'You haven't got any balls,' and certainly even worse than that, and then I added, 'You're shitting yourself in front of Mourinho. You can go to hell!'"
Of course, stories such as these reinforce the belief that Ibrahimovic is almost impossible to manage. However, Mourinho insists that nothing could be further from the truth.
"I don't understand when people say he is a difficult guy to work with, or a difficult personality," the Chelsea boss insisted. "A difficult personality [is] when you have to work with people who don't want to win or don't want to improve.
"When you have somebody that is a winner and wants to win all the time and wants to be the best and is not afraid of the big responsibilities, I think he is very, very easy.
"I only coached him for a year but it was a good year, a good experience – I rate him as one of the best players I have ever coached."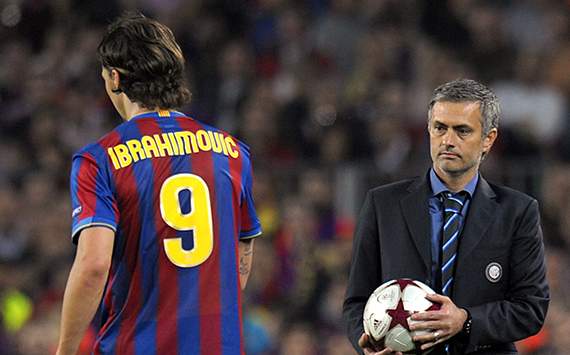 Fear Factor | Ibrahimovic infamously accused Pep Guardiola of being afraid of Mourinho
Which is precisely why Mourinho has been warning his players about the threat the Paris Saint-Germain ace poses to Chelsea's hopes of winning this season's Champions League. Ibrahimovic has won league titles in five different countries yet he has never lifted the European Cup.
During that final conversation at the team hotel before he left for Barca, Mourinho asked Ibrahimovic, "So, you're going to Barca to win the Champions [League], huh? … But we're the ones who're gonna bring it home – don't forget. It's gonna be us!"
Ibrahimovic has never forgotten that prophetic jibe. And Mourinho knows it; he is well aware that the Swede's "dream" is to lift the formerly-named European Cup.
"Zlatan is a special player, who has won all the championships and he wants to win the Champions League now, which will make him ever more dangerous [than usual]," Mourinho conceded.
However, whatever the outcome of Chelsea's quarter-final tie with PSG, nothing will change between Mourinho and Ibrahimovic. In Tuesday's pre-match press conference, Ibra hailed Mourinho as someone "I have always agreed with, a great coach."
They survived their bitter break-up and, as Mourinho said recently, "We're in contact. We're friends."
A special manager. A special player. A special relationship.
Follow Mark Doyle on