The two strikers clash at the Allianz Arena on Saturday and will be team-mates next year, but is the Pole really that much better than the Croat?
DEBATE
By Enis Koylu & Stefan Doring
Bayern Munich's signing of Robert Lewandowski on a free transfer from Borussia Dortmund was always going to be controversial.
The Bavarians were signing yet another of BVB's stars, after acquiring Mario Gotze at the end of last season for €37 million, to further strengthen their position as the top side in Germany – despite the fact that they already have another top-class striker in the form of Mario Mandzukic anyway.
So, should Pep Guardiola drop the Croatian, who has performed brilliantly in his two years at the Allianz Arena in favour of the more glamorous forward? Goal's experts debate the issue.
"MANDZUKIC HAS DONE NOTHING TO DESERVE THIS"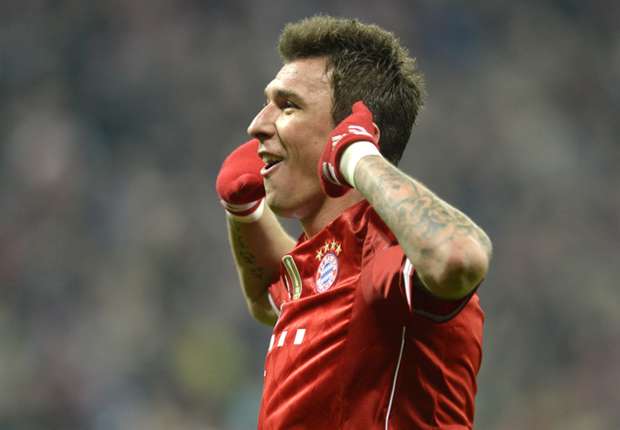 By Enis Koylu
When Bayern Munich lost the Champions League final to Chelsea in 2012, then club president Uli Hoeness was quick to scapegoat Mario Gomez, saying that they would have won if the German was "world class" rather than just "good".
Mario Mandzukic was promptly signed to replace the former Stuttgart man and delivered Europe's biggest title less than 12 months later, scoring the opener in the Wembley win over Dortmund. He may not be spectacular, but the Croat's work rate, commitment and eye for goal are invaluable.
But apparently that's not enough. Despite having an effective No.9 who has delivered time and time again, Bayern have sought to bring Robert Lewandowski to the Allianz Arena on a free transfer from Borussia Dortmund.
The move has, quite understandably, left Mandzukic miffed. The former Wolfsburg man has done little wrong in his two seasons in Bavaria, having won his place from Gomez fair and square.
His contribution to the team is undeniable. With Claudio Pizarro having played a bit-part role this season, he is the only main striker in the first team and has led the line admirably and tirelessly.
And yet Pep Guardiola seems desperate to replace him, having played Gotze and Thomas Muller as strikers – a role to which they seem ill-suited and even leaving him in exile from the first team at the turn of the year.
Since then, he has responded in typical fashion, spearheading the European champions' front line.
When he is left out, he is missed. When the Bavarians were struggling in the recent Champions League tie at Old Trafford, his introduction heralded a change in fortunes as he immediately set up Bastian Schweinsteiger's equaliser, before he triggered a comeback in the second leg after they went a goal down.
Beyond that, Lewandowski and Mandzukic have both scored 17 Bundesliga goals – despite the Croatian starting fewer matches. The Pole is hardly more productive, despite all his talents.
Whether it is because Bayern want to weaken a direct rival by signing their star player, or because they simply feel the need to upgrade to an allegedly better striker, Mandzukic has done nothing to be dropped in favour of Lewandowski.
They are both great players, but Mandzukic has proved his worth in Bayern's XI, not once, but countless times.
Follow Enis Koylu on

"LEWANDOWSKI IS THE BEST & BAYERN ARE THE BEST"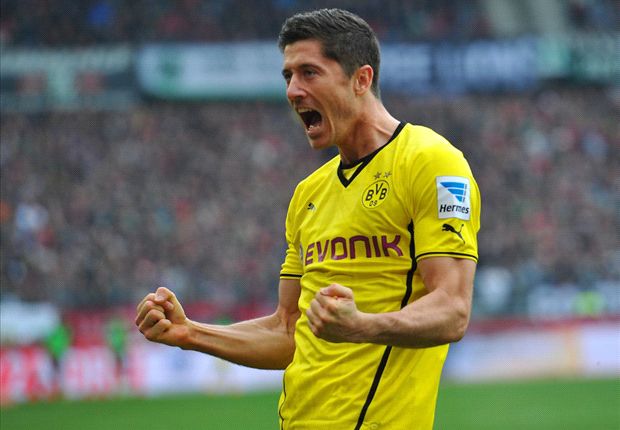 By Stefan Doring
Robert Lewandowski played his last Champions League game for Borussia Dortmund on Tuesday. On Saturday, he'll come up against his future employers for, if everything goes to plan in the DFB-Pokal, the penultimate time in yellow and black.
When he moves to Bayern Munich in the summer everything will come together. The best striker in the Bundesliga – maybe even the world – will be lining up for the finest team Germany – probably the planet – has to offer.
The fact is that Lewandowski is a rare talent. His touch is outstanding, his eye for goal is outstanding, his all-round play is outstanding. He is simply the most complete striker in the league and would be of huge importance to any team. Dortmund have benefited from his brilliance for years, as have Poland.
The way he handles the ball is beyond the wildest dreams of other footballers. He puts his body on the line in every challenge and comes away with the ball cleanly. The way all of the facets of his game combine is special.
It's not without reason that Real Madrid, Chelsea and Barcelona have all chased his signature and Dortmund have been vindicated in their decision to hold onto him for another year and lose him for free at the end of the current campaign.
Quite simply, there is no player like Lewandowski in the transfer market.
So, there is no question as to who will line up for Bayern next season. Lewandowski fits better than Mandzukic in Pep Guardiola's system thanks to his brilliant team work and he is certainly not just a penalty-box striker.
He is a better dribbler, which will help the Bavarians with their game of ball retention, and drops further back to get involved in the play. With his back to goal, he is perhaps the best and often brings his team-mates into great positions.
Lewandowsk versus Mandzukic? No contest.
Follow Stefan Doring on