The France stars have both dealt with adversity in recent years but can now start to focus fully on their football after the conclusion of their unwelcome off-field battle
By Robin Bairner
When Real Madrid meet Bayern Munich in the semi-final of the Champions League on Wednesday, it will create adversaries of Karim Benzema and Franck Ribery – international team-mates whose destinies over the past few seasons have been intrinsically linked by events far away from the field.
It is almost exactly four years ago to the day that the French footballing world was rocked by the news that several players were at the heart of a legal storm involving underage call-girl Zahia Dehar. On January 31, 2014, Ribery and Benzema were finally cleared of any wrongdoing, yet there can be little doubt that the 'Zahia Affair' has left lasting scars for both.
For Ribery, in particular, it marked the period of decline in terms of his popularity in France. Having exploded into the national consciousness during World Cup 2006, the Boulogne-born Bayern Munich attacker was embraced by the French people as a working-class hero, whose scarred face was a lasting memorial to the obstacles he had overcome to attain the status as one of the best players in the world.
The 31-year-old, who had moved to Germany in 2007 from Olympique de Marseille, endured a tough few months in the summer of 2010. He missed the Champions League final defeat against Inter after an appeal to have a ban shortened following his dismissal against Olympique Lyonnais failed.
But more telling were events at the 2010 World Cup, when his performances were sub-standard and his behaviour deplorable. Ribery is credited with being one of the main protagonists in the strike that saw the side refuse to train under Raymond Domenech. He was also accused of bullying Yoann Gourcuff. This was partly as a result of his wife making doe eyes at the erstwhile Bordeaux player, owing to her husband's previous infidelity, physio Jean-Pierre Paclet claimed in his book 'L'Implosion'.
FRANCK APOLOGY

"In my private life, my behaviour as a footballer, I went down the wrong roads, I lost myself"
Franck Ribery, 2011
"It's clear I had a horrible 2010 from all points of view. I won't even speak of the injuries that troubled me," Ribery admitted in 2011.
"But in my private life, my behaviour as a footballer, I went down the wrong roads, I lost myself. I hurt people, people who are very dear to me. I disappointed and even shocked many people and I want to apologise."
While Ribery's popularity in Germany never waned, in his homeland it crashed. Only over the course of the last year, when the national team have started to show spirit and togetherness for the first time in close to a decade, is there even an uneasy alliance forming between the public and the 2014 Ballon d'Or nominee.
"Certain journalists like me, others don't. There, they wanted to finish me off. There was rage. They said to themselves: 'That one, he's at the bottom, he's never going to come back'. But I am here. What makes me happy is that I have got back to my best, and I have re-found my smile with the French team," Ribery told RMC in January.
"There was a time when it was very difficult. I was tense and anxious when I went back to France. I asked myself what was going to be said, what was going to happen. Today, everything's been sorted out. I've rediscovered my game."
If Ribery's form had been lost from the national side, it was rarely in question with his club, and only when injury problems have struck has he found himself on the periphery for the Munich giants. Indeed, his contribution towards Bayern's 2013 treble was so impressive that he was named on the final shortlist for the Ballon d'Or voting – though he does not seem to have got over being snubbed into third behind Lionel Messi and Cristiano Ronaldo.
On the flip side, Karim Benzema has failed to attain those heights and has regularly found his position at Real Madrid placed in doubt since joining the Spanish giants from Lyon in 2009.
At the time the scandal broke, the Lyon-born star was the darling of French football, having excelled at Stade de Gerland where he powered through the youth ranks and immediately installed himself as a key first-team figure.
"At the time I was there, I had the feeling that Benzema might be more popular in France than Ribery," former Madrid defender Paco Pavon, who spent a year with Arles-Avignon, told Goal. "He was on TV more – probably because Real Madrid are a bigger draw in France than Bayern Munich.
"I remember the Zahia case during the year I was in France. It certainly affected their image. In newspapers and on television they only talked about the case for several weeks. It didn't do either of them any good. I remember it also coincided with the strike of the national team and the fallout was spectacular. In this case, they would have welcomed playing outside of France."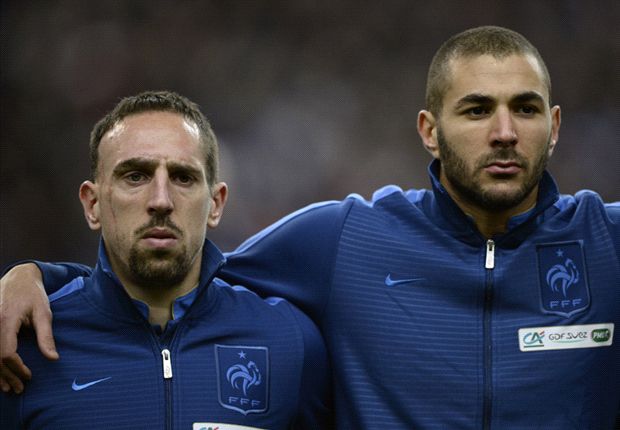 Brothers in Arms | Ribery and Benzema were implicated in the Zahia affair together
While Benzema might have escaped much of the press speculation, the goldfish bowl of Madrid meant that if he dipped below his top level for his club, his footballing abilities were immediately called into question. Season 2012-13 was a particular low point in this regard, but since the case has been settled the France international has played with increasing assurance and has contributed in a more consistent fashion. This term he has scored 23 goals in all competitions for the Blancos.
Mirroring the "tension" that Ribery spoke of when going to play with the national team, Benzema endured a miserable three-year spell with France in the aftermath of the breaking of the Zahia scandal, mustering a poor seven goals in 33 outings, which was greeted with criticism in the press and derision from the stands of the Stade de France. But just as the storm seems to have passed for the Bayern man, four goals in his last five games suggests that it is also clearing for the 26-year-old.
That both Ribery and Benzema have managed to limp from the wreckage of such a traumatic affair to further establish themselves at the top of the game speaks volumes about the character of both men. Both were undoubtedly adversely affected by the events of summer 2010 and still carry a portion of the mental burden it placed on them, yet the very fact that they will face each other in Wednesday's semi-final shows the resilience in which they have reacted to their difficulties.
Follow Robin Bairner on