The former winger has switched to the centre of midfield to superb effect after appearing to be on his way out of the Bernabeu following Gareth Bale's arrival
COMMENT
By Kris Voakes | International Football Correspondent
For many people it was the natural response to Gareth Bale's €100 million arrival from Tottenham. Angel Di Maria, the man who had proven such a key man on the right-hand side for Real Madrid over the previous three seasons, would be the fall guy.
Bale's transfer fee dictated that he would play on the wing whenever available. And that, in turn, would mean the end for Di Maria. His days with the Blancos were numbered, they said.
First, it was expected that Mesut Ozil would be given the nod to play between Cristiano Ronaldo and Bale in a 4-2-3-1, but the German was instead sold to Arsenal. Then, the continued rise of Isco looked set to end the Argentine's run in the first XI as Carlo Ancelotti bolstered his midfield by switching to a more structured 4-3-3 formation. But it is Di Maria and not the Spaniard who has excelled in a central midfield role reminiscent of the one he performed admirably in during his three-year spell at Benfica.
Heading into this week's Champions League semi-final first-leg against Bayern Munich, Madrid are still in with an outside chance of a magnificent treble with the Argentine proving to be one of the most vital members of Ancelotti's squad. While Ozil has struggled at Arsenal and Isco's formerly bright star has dimmed somewhat, the 26-year-old has outperformed both alongside Luka Modric and Xabi Alonso at the heart of the Copa del Rey winners' team.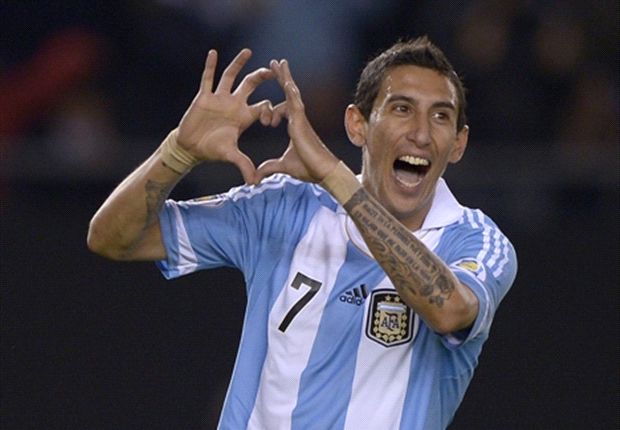 Loving it | The switch to midfield has got Di Maria playing well for club and country
His form won't have come as any surprise to those who saw him as a rising star in Benfica's midfield between 2007 and 2010. Playing to the left of Ramires, Pablo Aimar and Javi Garcia in a diamond setup, the Argentine came through time and again for Jorge Jesus' side, proving himself worthy of Real Madrid's eventual interest.
Yet when he arrived at the Santiago Bernabeu in a €25m transfer, he was quickly moved to the wing to exploit his pace and skill on the ball, with his ability to whip in pinpoint crosses also making him an excellent candidate for a spot out wide. Such a revelation was he as a winger that when Bale arrived in Spain, few even considered the possibility of Di Maria playing anywhere but on the flank.
"Di Maria is comfortable in the new role. His position in the centre is good for the balance of the team"
– Carlo Ancelotti

But his recent switch has coincided with a spell in which the Argentine has been Madrid's most consistent performer, and he has transferred that sparkling form into his displays in the same central midfield position for Alejandro Sabella's national team.
Former Albiceleste front man Hernan Crespo recently told Goal that it is thanks to Di Maria's switch that both Argentina's World Cup prospects and Real Madrid's trophy hopes have been boosted.
"It is very important for Argentina that Di Maria is playing in the central midfield position," said Crespo. "He has convinced Ancelotti to change the way the team plays. He took Isco's space, but Madrid have won with Di Maria playing good football, and he's been good for the balance of the team."
Ancelotti has been quick to add his plaudits too, telling reporters following the 4-3 league loss to Barcelona at the Santiago Bernabeu: "Di Maria's movement behind Alves in the first half was great and we scored two goals through it. He is comfortable in the role he is playing in. His position in the centre is good for the balance of the team."
"I'm in my best moment since coming to Real Madrid," agrees Di Maria. "Ancelotti changed my position and I adapted very quickly."
And it has been that ability to adjust to his new role in the Italian's side that has seen Di Maria become one of Madrid's star men. If the Blancos are to pull off a shock win over Pep Guardiola's European champions in the two-legged tussle to come, then one has to believe that the ex-Rosario Central man will have a big part to play.
The one-time wing man is flying more than ever in his new surroundings.
Follow Kris Voakes on