The Bavarians have failed to raise their game against the elite this term and must resolve their big game malaise soon
By Enis Koylu
When Bayern Munich romped their way to the Champions League title last season, winning all but one of their knockout round games, it seemed there was no team capable of performing in a big game like the Bavarians.
They saw off Juventus with clinical ease, dismantled Barcelona 7-0 over two legs and looked a fearsome machine. They were expected to get even better this term, with the confidence of winning firmly instilled, but their peformances against top teams leave a lot to be desired.
Bayern began life under Pep Guardiola, who took over last summer, against Borussia Dortmund at Signal Iduna Park in the DFL-Supercup and the Spaniard was given a harsh wake-up call as Marco Reus and Ilkay Gundogan inspired Jurgen Klopp's side to a 4-2 win.
A month later, they took on Chelsea in the Uefa Supercup and yet another disappointing performance followed. Twice the Blues went ahead, despite playing much of the match with 10 men, before Javi Martinez forced a penalty shoot-out with a late, late equaliser and the German champions triumphed.
In early October, Bayern produced perhaps their best showing of the season at the Etihad Stadium in early October. The Bavarians started at a canter, Franck Ribery's early goal setting them on the way to a 3-1 lead.
It was then that they really started to look the dominant force they had been the previous campaign. They got their first Bundesliga win over Borussia Dortmund since 2009-10 in November, winning 3-0 at the Westfalenstadion in an extraordinary sequence of domestic victories.
In Europe, however, they still looked susceptible as they let a two-goal lead slip at in the return game against City. Another goal from Manuel Pellegrini's side may well have cost them dear and ensured they finished second in their group.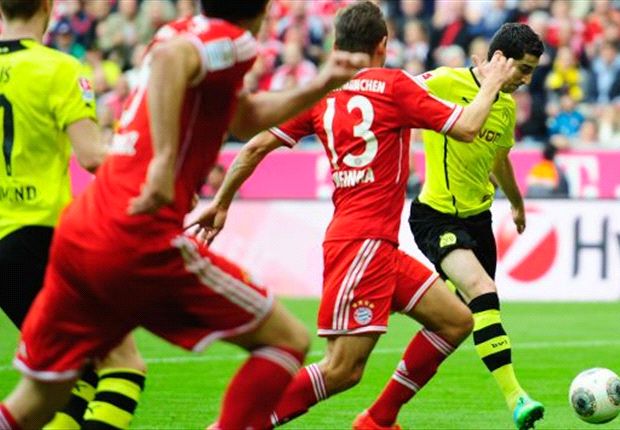 Bested | Dortmund stunned Bayern 3-0 at the Allianz Arena less than two weeks ago
They looked considerably rattled against Arsenal in the round of 16, needing Manuel Neuer to save a penalty early on. Had Wojciech Szczesny not been sent off for Arsene Wenger's side, they may not have been able to come away with a 2-0 win.
In the return leg, the Gunners held them to a 0-0 draw despite Thomas Muller's late missed spot kick and they also faced English opposition in the last eight. The worst Manchester United team in a generation gave them a scare, drawing the first-leg 1-1 and leading the second by a goal before the favourites produced a comeback.
They had the chance to reasssert their domestic dominance against BVB earlier in April but were comprehensively outplayed by a team missing a number of their first-team players, Klopp's men winning 3-0 at the Allianz Arena.
And so their most recent high-profile clash was at the Santiago Bernabeu on Wednesday. Bayern were limp, lifeless and unimaginative, as Real Madrid were noticeably untroubled in a 1-0 win which could have been by a greater margin. Hardly the form of the best team in the world.
All in all, that leaves them with a record of just four wins from 11 games against teams that can truly be classed among Europe's elite – sides who will be fighting for trophies in the coming weeks.
With only two top teams in Germany, Bayern are realtively untroubled throughout a domestic season thanks to their vast array of riches and stars. But they must learn to raise their game ahead of Tuesday's return with Carlo Ancelotti's side, or risk missing out on retaining the Champions League.
Follow Enis Koylu on