Carlo Ancelotti's side saw less of the ball in their Champions League first-leg win over Bayern Munich, but won the game and took a significant step towards their main objective
COMMENT
By Ben Hayward | Spanish Football Writer
Real Madrid's Decima dream draws ever closer. Carlo Ancelotti's side tamed Pep Guardiola's brilliant Bayern Munich at the Santiago Bernabeu on Wednesday night to take the upper hand in the tie and move a step nearer to a 10th trophy in European football's premier club competition. Even more impressively, they did it with Cristiano Ronaldo half fit and Gareth Bale on the bench following a bout of flu.
Ronaldo ran all evening but looked to lack some of his usual sharpness, blasting a glorious opportunity over the crossbar in the first half. But it was the 29-year-old's slide-rule pass which picked out Fabio Coentrao's overlapping run down the left and the full-back found Karim Benzema for an easy finish after 19 minutes.
Cristiano came off with 16 minutes left to be replaced by Bale, bed-ridden earlier this week with flu but fit enough to play a part in this match.
"Without Bale and with Cristiano only at 50 per cent, it's not easy to play as well as we did," Ancelotti said after the match. And he added, perhaps ominously for Bayern: "Both will be stronger on Tuesday."
But whether both will play is another matter altogether. Ancelotti admitted that the 4-4-2 system he has employed in the last two games (the 2-1 Copa del Rey final success over Barcelona and now the win on Wednesday) allows his side to defend better.
"Against teams with so much possession, we are more comfortable defending in a 4-4-2," the Italian explained.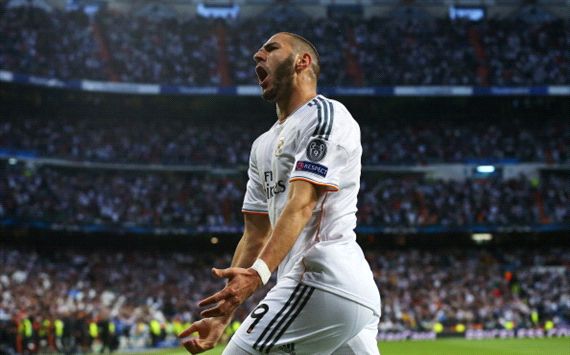 Clinical | Benzema scored with his only touch in the penalty area on Wednesday
Indeed, in 180 minutes using that formation against two of the finest attacking sides in Europe, Madrid have conceded only once – and that was a header scored by Marc Bartra at Mestalla last Wednesday.
Then, Ronaldo sat out with an injury and against Bayern it was Bale's turn. But with both likely to be much nearer full fitness next week, Ancelotti has a decision to make. His much-lauded 'BBC' trident (Bale-Benzema-Cristiano) has brought goals galore for Real this term, yet it makes Madrid more vulnerable in defence. So either Bale (or Ronaldo, but more likely the Welshman) adopts a more disciplined demarcation on Tuesday or one of the two is left on the bench. That being the Portuguese, it seems, is unlikely.
Ancelotti, however, knows full well the dangers presented by Tuesday's trip to Munich – especially after Madrid almost threw away their three-goal lead at Dortmund in the quarter-finals earlier this month. "We will give everything like we did today," the Italian said. "But we need to be prepared to suffer."
On Wednesday, Xabi Alonso, Luka Modric and Angel Di Maria were all outstanding in midfield, so should Bale return to the starting line-up, it is likely to be Isco who drops to the bench. "It's a difficult game, but we have to play with the will and the confidence we had today," Ancelotti added. "Who knows what will happen there? But I'm confident."
So he should be. While Wednesday's win for Madrid was the first defeat for Guardiola as coach at the Bernabeu in eight visits, the result also means Ancelotti remains unbeaten versus Bayen in seven games. As he said before the match: "Bayern might be Madrid's bogey team, but they're not mine!"
The current champions' failure to score an away goal means Madrid are now favourites with the bookmakers not only to advance to the final, but also to win this competition. Ancelotti, meanwhile, seems to have learned lessons from the Dortmund debacle and tightened up accordingly, and even though Bayern will be expected to score on Tuesday, so too will Real.
Without their two finest forwards in tip-top shape, Madrid showed on Wednesday that they no longer fear Bayern, nor are they afraid of Guardiola. The so-called German curse is almost buried, too, after aggregate successes over Schalke and Dortmund in previous rounds. So while there is still plenty of work to be done, Real's Decima dream is now suddenly starting to look like a reality.
Follow Ben Hayward on