The Bavarians eventually thrashed Werder Bremen 5-2 on an emotional afternoon in Munich, but need to drop their defensive line deeper in Tuesday's return clash versus Real Madrid
COMMENT
By Carlo Garganese
For a sombre-looking Pep Guardiola, this was only a football match.
The criticism he has faced this week will pale into comparison following the tragic passing on Friday of his former assistant Tito Vilanova. A minute's silence was held before Bayern's Bundesliga clash with Werder Bremen on Saturday, while Pep was dressed all in black out of respect for his great friend.
"It was difficult for me to follow the match today, Tito was more than a friend," a grieving Guardiola said at full time.
"The sadness I feel will accompany me for the rest of my life. We were young, we wanted to eat the world, and we did."
Indeed, as Claudio Pizarro scored one of his two goals, the camera switched to the Bayern coach staring at the floor, expressionless, hand on chin. One can imagine what was going through his mind.
A 5-2 win over Bremen will have been a little tonic for the Catalan during a difficult time, and he will now hope to overcome Madrid on Tuesday in Tito's memory.
In order to do so, Bayern will need to tread carefully. Despite putting five past Bremen on an emotional afternoon in Munich, any repeat of their first half defensive display will certainly be punished by Ronaldo and Co. Saturday's goals cannot paper over the cracks present at the back.
Much of the opposition to the use of Guardiola's tiki-taka at Bayern has centred on the sterility of Bayern's slow possession-obsessed game. Less highlighted has been the defensive flaws that result from playing such a high defensive line.
Karim Benzema's winner in midweek arrived in such circumstances, while Cristiano Ronaldo and Angel Di Maria could have also scored due to Bayern committing so many men up the pitch.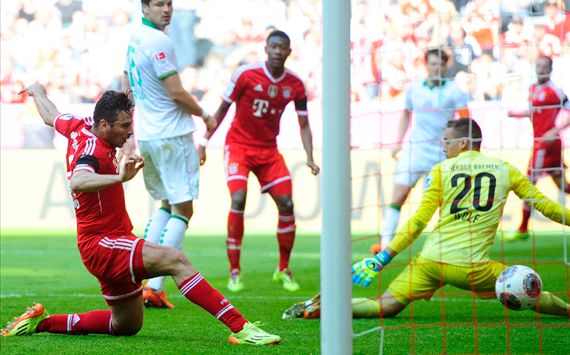 At the double | Claudio Pizarro struck twice in the second half for Bayern
Bremen punished Bayern twice in the first half by copying the Madrid blueprint. Cedrik Makidi and Franco Di Santo pounced on slow, sideway passes to release Theodor Gebre Selassie and Aaron Hunt, respectively. Both finished with aplomb as Bremen twice led to take a 2-1 advantage into the break.
If Madrid are afforded the same space on the counter attack that Bremen were in the opening period, then the tie could be over by half time. Winning the ball back in five seconds may be an important aspect of tiki-taka, but Bayern cannot push as high up the pitch against the Blancos as they did against Bremen. Madrid have far too many transitional weapons in Ronaldo, Gareth Bale, Benzema and Di Maria.
There will be concern in the Bayern camp at how poorly a number of their defenders are playing. Dante was a rock in the treble-winning campaign under Jupp Heynckes, while Jerome Boateng started the current season brilliantly. Both are in poor form and committed a string of errors again on Saturday.
All of which underlines the need for Phillip Lahm to play at right back on Tuesday. The captain was introduced at half time against Bremen in his natural role and made a huge difference. A calming influence, who helped organise the backline, Bayern conceded nothing after the break. Unanswered goals from Pizarro (2), Bastian Schweinsteiger and another substitute Arjen Robben resulted in a morale-boosting 5-2 win.
"We won, and that's good before our 'final' against Madrid," Guardiola noted.
Before the 'final' is Tito's funeral, which takes place on Monday in Barcelona. Whether or not Guardiola is able to attend is unclear, but beating Madrid on Tuesday would certainly be a suitable tribute.
Follow Carlo Garganese on