COMMENT: The Spaniard has been made the scapegoat for the Champions League thrashing by Madrid, but the defeat showed that many Bayern players can't interpret the coach's vision
The consensus among the majority of football fans and critics in the aftermath of Tuesday's humiliating 5-0 Champions League semi-final loss against Real Madrid was that Pep Guardiola was solely to blame for Bayern's failure.
There were a long number of grievances. That Guardiola had arrived in Bavaria on the back of Jupp Heynckes' stunning treble last season – when Bayern had crushed everyone in their path on the way to European glory – and tried to reinvent a wheel that didn't need reinventing. That he had forced his players to adapt to his philosophy, rather than the other way around. That he had impressed a style of possession play onto them that was not suited to their attributes.
The truth is that Bayern's surrender to Madrid was more due to individual errors than any overarching 'philosophical' failing. "The reason for the defeat isn't related to the possession," Guardiola said after. "Football is played with the ball and then there are other things. If you don't play well and you defend set-pieces badly, that's just how it is." Yet Guardiola is being questioned. The real inquest should focus on the players and their suitability to Pep's plans.
Look at the footage of Guardiola on the sidelines, throwing his water bottle around. Do you think he set his team out to pass the ball 800 times and muster only a few shots on goal? He is the most innovative coach in modern times. He is not the type of man to say 'go out and pass it, see what happens'.
Admittedly, he made mistakes. "We did not play well tactically," Philipp Lahm said. "We played an open game way too early." Javi Martinez was bought to plug the exact type of hole Real ran through for the goal in the Bernabeu and the third at the Allianz Arena. "I was wrong on some tactical issues," Pep said.
What is clear now is that Guardiola's stance has changed since his first press conference. "I need to adjust to the players, not the other way around," he said at the time. "Football belongs to the players, not to the coach. I will have to adapt."
If he was to adapt to the Bayern squad's strengths, then it would have been a case of continuing what Heynckes did with them to immense effect last season. The veteran, once Guardiola's signature was announced in January, worked hard to ensure that his team went out on a high. They won him the treble in devastating style.
But Bayern didn't hire Pep to do Heynckes' work. They hired him to do things his way. Pep, though, would have to do it largely with Heynckes' players. If Bayern's decision-makers wanted to sustain the Heynckes' legacy, he would have been kept on or else they would have found a successor – much like Barcelona replaced Pep with Tito Vilanova.
There are some in the squad who have adapted to what Guardiola has asked of them. Others haven't. Lahm is the leader of the first group. Pep credits him with being the "most intelligent" player he has ever worked with. That is because he bought into what the coach has asked.
That element of the Bayern team doesn't really do things all that differently now compared to their time under Heynckes. Then, they kept the ball for 70 per cent of the time too. It's how they get into the final third which is supposed to be different.
Heynckes played with variation; crosses, long shots, Mario Gomez mopping up loose balls. They scored all kinds of goals. He liked an overload, as Pep does, and there were plenty of pull-backs from the byline too.
It is impossible not to compare what Pep's Barcelona did to what this Bayern side do. Barca had plenty of the ball on the edge of the box facing deep defences too but they usually found a way; a one-two, some Lionel Messi magic, a switch of play from Andres Iniesta to Dani Alves.
The man brought from Barca, Thiago Alcantara, was supposed to be the man to stitch it all together for Bayern. The old meets the new through the Spain midfielder. "I spoke to club about my concept and told them why I want Thiago," Pep told the press prior to the signing. "He is the only player I want. It'll be him or no one. We the need the special quality that Thiago brings."
Thiago's injuries have denied him the chance to be the difference maker that Guardiola expected him to be. His passes were missed against Real because he understands what Pep wants more than anyone else. "He wants to control the game with Bayern, the same as in Barcelona," Thiago told FourFourTwo. "He has a definite idea of what his football should look like. One of Guardiola's objectives is creating superiority in numbers. Always having two players against one opponent is what the team strives for."
But their play against Real Madrid was fruitless. All season long in the Bundesliga, it was no trouble. Arjen Robben would do something to get the ball into the box and someone would put a toe on it for a goal. No such luck for long spells against Real Madrid. Bayern looked to Robben with similar regularity but he could not do anything worthwhile; constantly sought but not capable of carrying the creative burden.
On the other side, the once-explosive Franck Ribery met resistance. He barely put a meaningful pass into the penalty box over two legs. Toni Kroos, for all his technique, is much slower in his thoughts and execution than either Xavi or Iniesta. He made the two fouls that led to the two goals from free kicks. It is understandable that Bayern, and by extension Pep, are holding out on a new contract. Mario Mandzukic isn't capable of holding the ball under control to bring his fellow attackers into play.
Jerome Boateng simply cannot be relied upon to defend for 90 minutes without making at least one error. These come in the form of concentration lapses or poor positioning.
Manuel Neuer is probably the best goalkeeper in the world. He has been responsible for plenty of points over the course of the past three seasons. But his basic football skills are not up to the standard of Victor Valdes. Guardiola would happily dispense with a goalkeeper if he thought the ball could be moved from that area quicker and more accurately.
That's six from the group who started the other night who might think they could have done more to put Bayern through.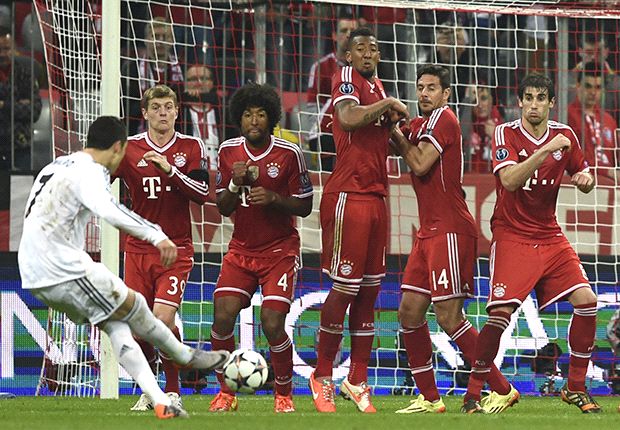 And then it was four: Ronaldo strikes home a late free kick to complete the humiliation
Bayern suffer a lack of pace all over; they seem to go forward in instalments instead of with fluency. They switch off at set-pieces. Their overlaps are telegraphed. There is little intelligent movement from the midfield sector to the box. It can all be very sterile when confronted with a sturdy defensive puzzle. Those are failings of the players and not the coach.
What Pep has in mind for Bayern is not possession for possession's sake. That does not work. In the Bundesliga, where teams often now surrender before Bayern even get out on to the field, there is usually a momentary lapse and Bayern score their first goal. After that, all bets are off. But the Champions League is different. Clean sheets are protected more ferociously. Bayern have not protected theirs with any sort of enthusiasm.
It was reported that one of the reasons why Pep decided against renewing his Barcelona contract was the board's refusal to sell four of the team's best players – Cesc Fabregas, Gerard Pique, David Villa and Dani Alves. He wanted replenishment in the playing ranks. It was not forthcoming. He spoke in the end of not being able to motivate the players after such an intense period together. What he needed was a sense of permanent alertness in his squad that would prevent complacency. If they couldn't cut it, he would get rid. And that was with his own team, let alone one coached to every trophy going by a predecessor; fattened on success and the various vices it brings.
When you want an honest answer out of Bayern Munich, Thomas Muller is usually your man. "It wasn't easy to motivate ourselves after playing against Dortmund and the difficult game in Moscow," he said after Bayern made heavy work of a league game against Eintracht Braunschweig in the winter. When they lost 3-0 to Borussia Dortmund last month he was again forthright. "We just weren't as fresh or hungry as we really should be, or at least should want to be," he said. "We can't make an excuse out of how difficult it is psychologically. At the end of the day, we want to win every game, but we're just lacking that hunger." Bayern's weather vane.
The only way forward for Guardiola is to remake Bayern in his own image and to work up that hunger again and resdiscover that motivation. He needs players to execute better and avoid carelessness. An awkward juxtaposition of his football and Heynckes' failed to hit the mark this season in the Champions League.
It will be a very different Bayern next season. Pep's Bayern. It might well be built without the key treble winners because Pep will have seen that his plans cannot be carried out by Heynckes' men. "It's not about repeating something but creating something new," Thiago says. He and Mario Gotze were too peripheral in their first seasons but they will be more influential next term. They, along with Robert Lewandowski, represent the new Pep era.
Guardiola's quest to find a new way of winning goes on. This group of players failed him at the last.