ANALYSIS: The 28-year-old has struggled with injuries for the last two years and has paid the price, as he has been left out of Joachim Low's preliminary squad for Brazil
When Mario Gomez scored 41 goals for Bayern Munich in 2011-12, it would have taken a brave man to argue that there was a better penalty-box striker in the world. And, sure enough, Joachim Low put his faith in the former Stuttgart man at Euro 2012 that summer and the forward responded with three goals in his opening two games.
It was a moment of vindication for Gomez. He had come onto the scene as a wonderkid, who would be one of the world's leading strikers for years to come but had always failed to deliver on the big stage, failing to score during both Euro 2008 and the 2010 World Cup.
However, it appears that his double against Netherlands in Kharkiv – still his last two international goals – will be the pinnacle of his Germany career, not a significant step on the path to greatness.
The intervening two years have been nothing short of a nightmare for Gomez. Mario Mandzukic was signed in the summer of 2012 to take some of the heavy burden of leading the line off his shoulders but a knee injury helped the Croat win a permanent place in Bayern's starting XI.
He barely featured as his side stormed their way to the Bundesliga title, the DFB-Pokal and the Champions League, although his stats of 19 goals in 32 games pointed to a somewhat productive season, particularly as the bulk of his appearances were off the bench.
Not happy to play a bit-part role, he left the Bundesliga to revive his career with Fiorentina. But the move to Italy has not worked out for him as he quickly sustained another knee injury that kept him out for five months before breaking down again shortly after his return to action earlier this year. However, even when fit, his performances had hardly inspired confidence.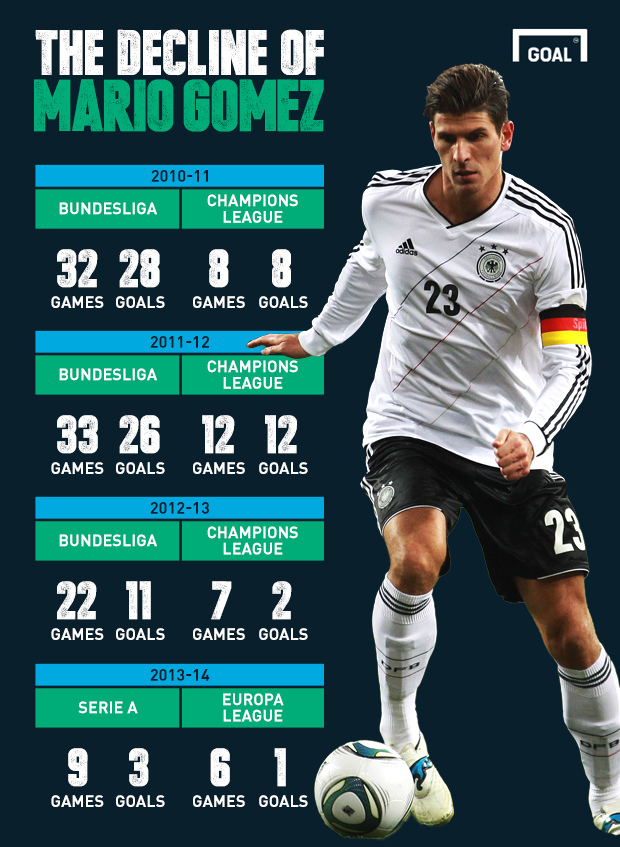 All the while, Low was considering his options. With Miroslav Klose fading and no obvious successor waiting in the wings, the 54-year-old had been experimenting with playing the likes of Marco Reus and Mario Gotze as strikers, with varying degrees of success.
It now seems that the former Fenerbahce boss is happy to do it without Gomez all together.
To this day, Gomez has not scored a single goal in World Cup qualification or the tournament proper – unthinkable for a Germany striker with over 50 caps – and his problems with form and fitness have made him too much of a risk to take to Brazil this summer. "Since September, he has only played 280 minutes," Low explained. "So I'm of the opinion that he could not cope with the physical conditions of this tournament."
Of course, with Klose set to bow out of international football this summer, there is scope for the 28-year-old to win back his place in the squad, but he'll be the wrong side of 30 by the time the 2016 European Championship comes along.
In the here and now, though, Germany's striking problems are a serious cause for concern.
It has been many years since Lukas Podolski played up front and his Arsenal manager Arsene Wenger does not believe that the former Koln man is capable of leading the line alone. "I played him at centre forward a few times and I felt he came a lot to the ball, more an off-striker than a target striker," he said in April.
Gotze's performances as a false No.9 for Bayern this season have been poor and attracted criticism from Franz Beckenbauer. "It doesn't make sense to play him as a striker. Bayern are wasting his potential in his position."
Max Kruse has won a handful of caps thanks to some fine performances, first for Freiburg then for Borussia Monchengladbach, but has failed to rekindle that form in an international shirt and, like Gomez, will be watching the World Cup at home this summer.
So that leaves Klose, seemingly incapable of staying fit these days and Kevin Volland of Hoffenheim, who, despite his obvious talent, remains desperately short of top-level experience.
Low will have to improvise in the coming month to ensure that his side are not short staffed up top in the absence of an obvious target man, who can be trusted to play multiple games in the Brazilian heat. And all of Germany will hope that Gomez's decline in the last two years does not cost the team.
Follow Enis Koylu on