The coach was set for an awkward summer of questioning over whether he has weakened last year's treble winners, but their DFB-Pokal final triumph will keep his critics quiet
COMMENT
By Miles Chambers
When Bayern Munich were riding high on a wave of euphoria as they romped to a Bundesliga triumph in record-breaking style, it was unthinkable that they could have ended of the season dogged by pessimism.
Real Madrid's 5-0 humiliation in the Champions League last month left a scar on their season which is impossible to erase, but Saturday's DFB-Pokal victory over Borussia Dortmund has certainly started the healing process.
Pep Guardiola was the man at the centre of the storm, with his critics baffled as to why he was forcing the style he honed at Barcelona upon the Bavarians. They looked toothless against Carlo Ancelotti's men in Europe, while defeats to Dortmund and Augsburg in the league had left them struggling to string wins together where just a few months ago they had looked unbeatable.
They had celebrated in style in their final game of the Bundesliga campaign, with beer showers galore, but it merely masked the problems as they needed a very late goal in their 1-0 victory over lowly Stuttgart to avoid ending their league campaign with a whimper.
Defeat in the DFB-Pokal fine would have made for an awkward summer for Guardiola, with the final month of failure overshadowing what could largely be considered sweeping success. When Arjen Robben scored in the second half of extra-time you could almost see the weight being physically lifted off the Spaniard's shoulders and Thomas Muller's solo goal with seconds to go was the icing on the cake.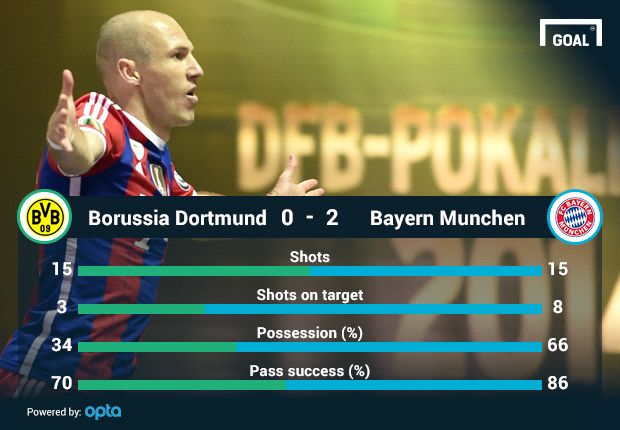 The final itself had a painfully dull first half – Roman Weidenfeller's face-save and Philipp Lahm's injury were the only talking points to drag from 45 minutes of tempo-free football.
The second half sparkled rather than shone, but at least it was endlessly more watchable than the first. Jurgen Klopp, however, will not be keen to rewatch it in a hurry after his team were denied a blatant goal: Mats Hummel's header clearly crossed the goalline before Dante kicked it back on to the field of play, but the officials were blind to the ghost goal.
"We scored a goal that didn't count," Klopp told Sky bitterly after the match. "All of my substitutes saw that. I don't want to pin the blame on the referee, but the goal would have changed a lot.
"We lost 2-0 though we scored a goal. The referee, Florian Meyer, told me you need the goalline technology for those things."
It is the second season in a row that Dortmund have finished with a heartbreaking defeat at the death to Bayern, with Robben once again their arch-nemesis.
The Dutchman's goal at the Olympiastadion was reminiscent of his Champions League final winner at Wembley last year and the former Real Madrid man relished his chance to shine for Guardiola just like he had for Jupp Heynckes 12 months ago.
"These games are the best," Robben gushed. "You have to enjoy them and you have to be ready. I didn't have the ball as often as I usually do, but I was patient. I knew my chance would come.
"It has been a superb season. We won the cup, the Bundesliga, took lots of records and got to the Champions League semi-final – it is not that bad."
Robben isn't wrong. Their European exit may have been painful but a trophy room with the Bundesliga, DFB-Pokal, Club World Cup and Uefa Super Cup sitting inside will undoubtedly see them through the summer feeling satisfied with their efforts.
Will Guardiola's tiki-taka revolution continue to steamroll on? Who he brings in and who he ships out will be key in figuring out his plans. He claimed after their European embarrassment that he would stick to his guns, but perhaps he will sit down over the summer and re-evaluate.
The honeymoon period is well and truly over for Guardiola now either way and whether he can sustain Bayern's domestic dominance will make or break the coach's time in Germany. But Robben surely can't save Bayern's bacon every time.