The Croatia international is surplus to requirements at Bayern Munich with the impending arrival of Robert Lewandowski and his attitude has played a big role in his decline
COMMENT
By Peter Staunton
One year on from scoring the opening goal in a Champions League final at Wembley, Mario Mandzukic is contemplating life away from Bayern Munich. There are not going to be any fond farewells for the Croatian who is now likely to have played his last game for the club. It has been a sudden and irreversible decline.
While his team-mates partied in Munich's Marienplatz after winning the domestic double this season, Mandzukic was some 700 kilometres away, being pictured with flood victims in his hometown of Slavonski Brod in Croatia. It was an illustration of just how far his status has fallen in Munich and how detached he had become from life at a club where, just weeks earlier, he had been a key player. A fruitful spell at Bayern brought a haul of 48 goals and eight trophies but almost overnight he became persona non grata.
It seems that two elements contributed to Mandzukic's indignant end to life at the Allianz Arena. First, the signing of Robert Lewandowski put the forward's nose out of joint and, secondly, his occasionally difficult attitude left him vulnerable to the whims of coach Pep Guardiola.
Now there is no hope of redemption at Bayern, where even his staunch supporter, CEO Karl Heinz Rummenigge, who personally oversaw his signing from Wolfsburg, admitted that the time had come to say goodbye.
Once news of Lewandowski's signing from Borussia Dortmund broke in January, Mandzukic was said to be determined to fight for his place. It has become apparent over the past few weeks, though, that he would be bound for the scrapheap. Over the course of a successful season at domestic level, he did not do an awful lot wrong. However, off-field issues with Guardiola, combined with the Lewandowski transfer, have all but brought Mandzukic's two-year stay in Bavaria to an abrupt end.
The shadow of Lewandowski has loomed large over Mandzukic all season long. To some extent, it did not matter if he scored three goals or 30 because the Pole was always going to be first choice for Bayern next season.
The tone from coach and boardroom changed over the course of the campaign. It was not that long ago that Pep was hailing Mandzukic as the best penalty-box striker in the world and Rummenigge's support and admiration for him has evaporated. As for honorary president Franz Beckenbauer, he could not have been clearer when he suggested that Mandzukic should "pack his bags" in anticipation of Lewandowski's arrival. The latest message from Pep, meanwhile, was reported to be "good luck with your new club."
Mandzukic is currently in Austria, preparing to lead his nation's charge at the World Cup, and his imminent transfer has caused such a furore that his national-team manager, Niko Kovac, has banned all agents from the team's base lest it be a distraction with Brazil on the horizon.
"I'd be delighted to have it off the table [before the first match]," Kovac said this week, "but I can't influence it. It's great to have such world-class players in our small country. He can play everywhere in Europe. I am not worried about Mario."
Mandzukic is certain to line up in the second Group A match in Brazil – he is suspended for the first game against the hosts – and a strong showing at the World Cup would put him in the shop window.
Strong international performances at Euro 2012, after all, preceded his move to the Allianz Arena, where he has been a huge success on the field.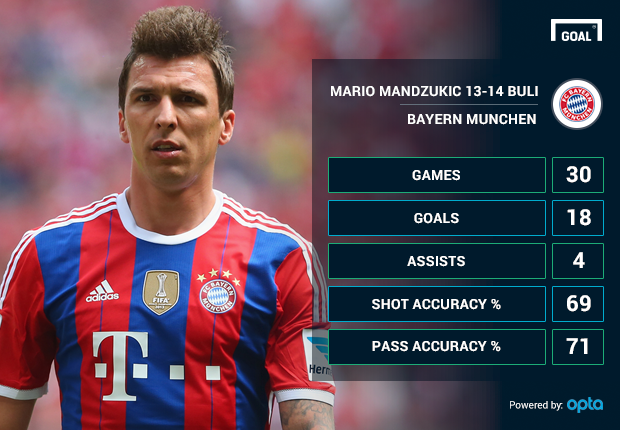 Mandzukic's agent, Ivan Cvjetkovic, fended off links with Juventus earlier in the season when his Bayern future looked a little more secure but things have changed considerably since then.
Chelsea are currently among the favourites to land the striker, whose contract expires in 2016, in this transfer window. Jose Mourinho spent last season lamenting his forward options and will attract Diego Costa to Stamford Bridge this summer. To go along with the purchase of the Spain international, Mandzukic would provide good foil.
As well as being capable of putting away his fair share of chances, Mandzukic is strong with his back to goal and would give Mourinho relentless energy in closing down and pressing from the front. Also said to be at the head of the queue are Arsenal, seeking more mobility in their attack, and Manchester United, who will shake up their playing staff under Louis van Gaal.
In the end it seems to have come down to a question of attitude. German newspaper reports following Real Madrid's defeat of Bayern in the Champions League semi-finals suggested that Pep's apology to the squad for his part in the defeat was met with sneering indifference by Mandzukic. TZ also reported that the Croatian's behaviour in training was a problem as he responded to Pep's tactical instructions with disdain. Problems in their relationship first appeared after the winter break. Guardiola made it known that Mandzukic had not worked hard enough in training and omitted him from the team which defeated Borussia Monchengladbach 2-0.
The rift grew and, by the time that the DFB-Pokal final rolled around, it was apparent that Mandzukic had played his last game for the Bavarians despite being an integral component of the team. The pre-match press conference was dominated by talk of the centre forward's exclusion, which Guardiola explained was discipline-related. "He would have been able to play but it is my decision and that's it," the Spaniard said at the time before Bayern won the cup in extra time against Dortmund.
Mandzukic flew to his homeland as his team-mates celebrated. He was, very quickly, airbrushed from the Bayern picture. "It was his decision to travel to the national team," Rummenigge said. "I regret this a bit but this can not be changed. This might fit a bit in the landscape of the past few weeks."
There was implicit criticism from the captain, Philipp Lahm, who praised Holger Badstuber for attending the celebrations despite not playing a part over the course of the season and lamented Mandzukic's absence by the same token.
The 28-year-old's work-rate and enviable scoring record have not provided enough evidence to Guardiola and general manager Matthias Sammer that he can fill the role any better than the incoming Pole. Were he to be judged solely on his output on the field, however, there is a chance that Mandzukic could have been kept on. Bayern are light on numbers in the striking department but the decision to retain Claudio Pizarro for another season can be seen as the clearest indicator yet that Mandzukic is for the scrapheap.