ANALYSIS: The world champions have lost three of their most experienced players since their triumph two months ago and have to rebuild

By Enis Koylu
Just 52 days have passed since Germany delivered on the promise of a generation and won the World Cup – on South American soil – by beating Argentina. It was a moment of redemption for the DFB, for Joachim Low and his talented crop of underachieving players. But the celebrations are over and new challenges are on the horizon.
The triumph at the Maracana was the culmination of over a decade of hard work and three of the team's most experienced heads, Miroslav Klose, Philipp Lahm and Per Mertesacker decided they had accomplished their mission. Shorn of 354 caps and three of his most trusted players, Low's rebuilding job starts, fittingly, against Argentina in Dusseldorf.
It is Lahm who will be missed most. Still the finest full-back in the world and a very able midfielder, his role as captain will be taken by Bastian Schweinsteiger, the most obvious and worthy successor but, aside from his leadership qualities, his talent will be sorely missed.
Though he is over 30 and has admirable reasons for quitting the international scene – the desire to see the next generation come through in time for the next World Cup – but he remains peerless in his position.
Unfortunately for Low, there are no obvious replacements waiting in the wings within his own talent pool. Kevin Grosskreutz, Jerome Boateng, Benedikt Howedes and Shkodran Mustafi can all fill in at right-back, but remain more comfortable elsewhere. For now, Boateng seems the most likely candidate to feature there, despite his blossoming partnership with Mats Hummels at centre-half.
Another player missing after a decade of service in the back four is Mertesacker. Though he was dropped from the team for the World Cup quarter-final and did not return until the last seconds of the final, he remained one of Low's most trusted lieutenants.
"Per is a very important player for us and I spoke to him and explained," Low said after the Arsenal defender was left out. "He had a marvellous attitude and said: 'I just want to help the team'."
His case is less complicated than Lahm's due to the multitude of replacements waiting in the wings – from Matthias Ginter to Antonio Rudiger and beyond – but he boasts a wealth of experience for club and country. His absence will be felt more off the field than on it.
One star whose exit from the international scene was obvious is Miroslav Klose, who may have turned 36 just before the World Cup but still enjoyed a record-breaking summer as he overtook Gerd Muller's old best-ever tally of 68 international goals before bettering Ronaldo's total of 16 World Cup strikes.
It is a testament to his longevity that he is calling it a day at the same time as Mertesacker, more than six years his junior. However, as his injury problems have mounted over the last year or two, he felt it was the right time to step away. Sadly for Low, they are short of forward options.
Mario Gomez has, for the most part, not reached his true potential in a Germany shirt, but will be welcomed back into the fold after missing out on Brazil thanks to a lack of fitness. Competition for the Fiorentina star will come in the form of Max Kruse and Kevin Volland, as well as the likes of Mario Gotze and Thomas Muller filling unorthodox No.9 roles.
Not a natural leader in the same vein as Mertesacker and Lahm, Klose's qualification campaign was punctuated with regular injuries and he was often left out of the squad. His absence around the camp will not be as noticeable until their Euro 2016 campaign, when they will be without the vast experience he has at major tournaments.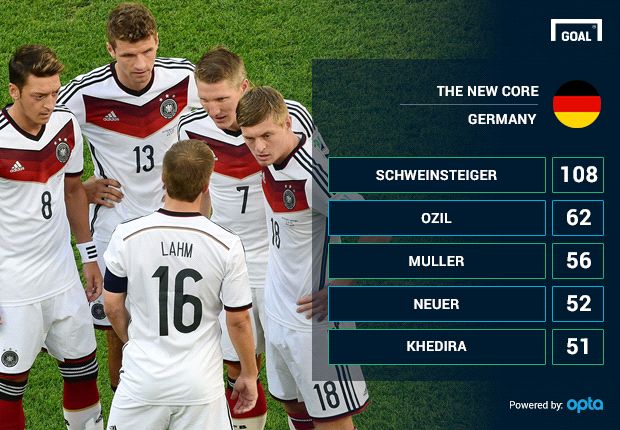 So there are holes to fill both on and off the pitch. Lukas Podolski and Schweinsteiger are now the senior ambassadors within the squad and must help the next crop get integrated.
They are not without team symbols in waiting, either. Sami Khedira, Thomas Muller, Mesut Ozil and Manuel Neuer are all senior figures now, all with over 50 caps, despite the oldest of them – the Bayern Munich keeper – being just 28.
As it stands, Schweinsteiger is without a deputy due to the number of viable candidates. "We'll see how it works out," Low said. "Maybe we'll decide in due course.
"I have a lot of confidence in Bastian. He unites all the players. He's an absolute leader who has always taken responsibility in the national team, both on and off the pitch."
So, there are seismic changes to deal with for now, but Germany are more than well stocked to succeed in the long term. It may just take a period of adjustment though.
Follow Enis Koylu on