The midfielder concedes it was tough to leave the Santiago Bernabeu this year but has no regrets about joining Bundesliga champions Bayern Munich
Xabi Alonso has revealed that Pep Guardiola's infectious desire to sign him was enough to convince him to ditch Real Madrid this summer.
The midfielder joined Bayern Munich in a deal rumoured to be worth €10 million, ending his five-year stint with the reigning European champions.
Many people suspected Toni Kroos arrival from the Allianz Arena was the reason Alonso chose to jump the Santiago Bernabeu ship, but he continues to deny this and stressed that all was well at Real Madrid and that he just wanted a change of scenery – which Guardiola was desperate to provide him.
"There are lots of opinions on my reason for moving in Spain," he told Goal. "But the fact is that I wanted a restart. For me, it was the right decision for my career.
"It had nothing to do with transfers or with Toni Kroos. Carlo Ancelotti trusted me and he knew that I would play an important role. There were no problems in Madrid.
"It was no easy decision but I thought that the right moment had come. Real Madrid are a big club. Now I had the chance to get to know another big club, in a new country, to experience new things. For me, it was the last chance to join Bayern.
"When I had made up my mind, I talked to the club officials at Real. They respected my decision and wanted to support me. Pep Guardiola wanted me badly and that was really important for me.
"I have always written the script for my career. That played an important part in my decision. When the interest in me became bigger, I thought about it seriously. I was already at a big club knowing that I would play because coach Carlo Ancelotti trusted me.
"After five years and having just won the Champions League – something we had worked hard towards for years – I was looking for a new challenge. It certainly was the right moment."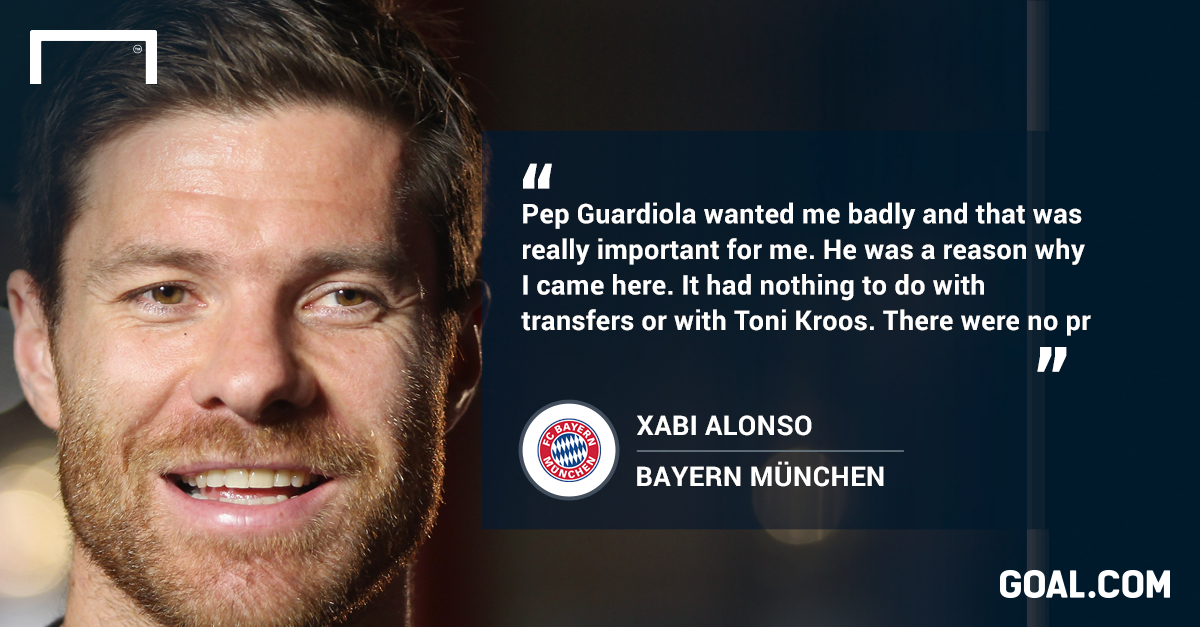 Having worked with a number of Champions League-winning trainers – including Carlo Ancelotti, Jose Mourinho and Rafa Benitez – Alonso gave his verdict on the style of his new boss, Guardiola, whom he claims works meticulously on forming the perfect tactics for Bayern.
"It is difficult to compare coaches," the Spaniard added. "Guardiola is an analyst. He always tries to improve the team, to prepare it perfectly for the next match.
"He always thinks about new ideas and has a great tactical background. For hours he thinks about the right tactics and he tries to teach the players what they have to do and consider. He spends hours coming up with a gameplan.
"For me, it is an incredible experience. I've learnt many things. He was a reason why I came here. He had a big interest in getting me here. For me, it was very important to feel that trust."
Latest news about FC Bayern on www.fcbayern.de / www.fcbayernmunich.com