COLUMN: Even Jurgen Klopp admits that this game no longer holds the lustre of recent seasons and Dortmund's rapid decline signifies the end of a once-great rivalry

By Peter Staunton
Follow @petermstaunton
Even if Borussia Dortmund beat Bayern Munich this weekend it will not mean a thing. Bayern, rightly, do not consider Dortmund as rivals these days. Bayern do not have any rivals in the Bundesliga. In any case, the odd defeat means little to them, coming as infrequently as they do. This, then, is the last 'Klassiker'. After this weekend, there will be no more.
"We are not at the same level with Bayern at the moment," Dortmund coach Jurgen Klopp stated on Thursday. "Nevertheless, we are surely not hopeless to win, although the situation now is very different from the years before. There is a really big gap in points between us and Bayern."
This contest meant a lot in recent years. Dortmund, in 2012, beat Bayern in a title showdown to claim the German crown and followed that up with a crushing 5-2 DFB-Pokal final win for good measure. A year later and Bayern had their vengeance at the Champions League final at Wembley. No longer, however, do these games mean anything but three points.
Real Madrid and Barcelona contest the original Clasico because of the grandeur of their positions. They are the best two teams in Spain, by some distance, but close together in terms of their own abilities and heritage. Furthermore, they set the benchmark for much of the rest of Europe too. That's how a 'Clasico' starts. These two Bundesliga clubs were supposed to take over as German football grew bigger and stronger, at least that was the reasoning behind renaming the country's biggest match.
Bayern have upheld their end of the bargain. European champions in 2013, they are reigning supreme over their domestic fiefdom too, having won the last two titles and now on the verge wrapping up a third on the trot. Dortmund are nowhere; out of Europe and 10th in the league after their brief spell as agitators-in-chief came to an abrupt halt.
Bayern boast the best coach in world football and plenty of the top players too. It seems Dortmund's stars cannot get out of Westfalen quickly enough these days. Bayern rank third on the Deloitte Money League, behind Real Madrid and Manchester United but in front of Barcelona. They are right in the mix when it comes to the super clubs. Dortmund are burned out.
Jurgen Klopp's side have not won a league title since 2012. They have been in Bayern's shadow, now, longer than they were in front. They had two seasons as Germany's top club and another in which they contested the Champions League final against Bayern. They lost. They were defeated by them in the DFB-Pokal final too last season. The only games they can win against Bayern these days are the ones that don't matter.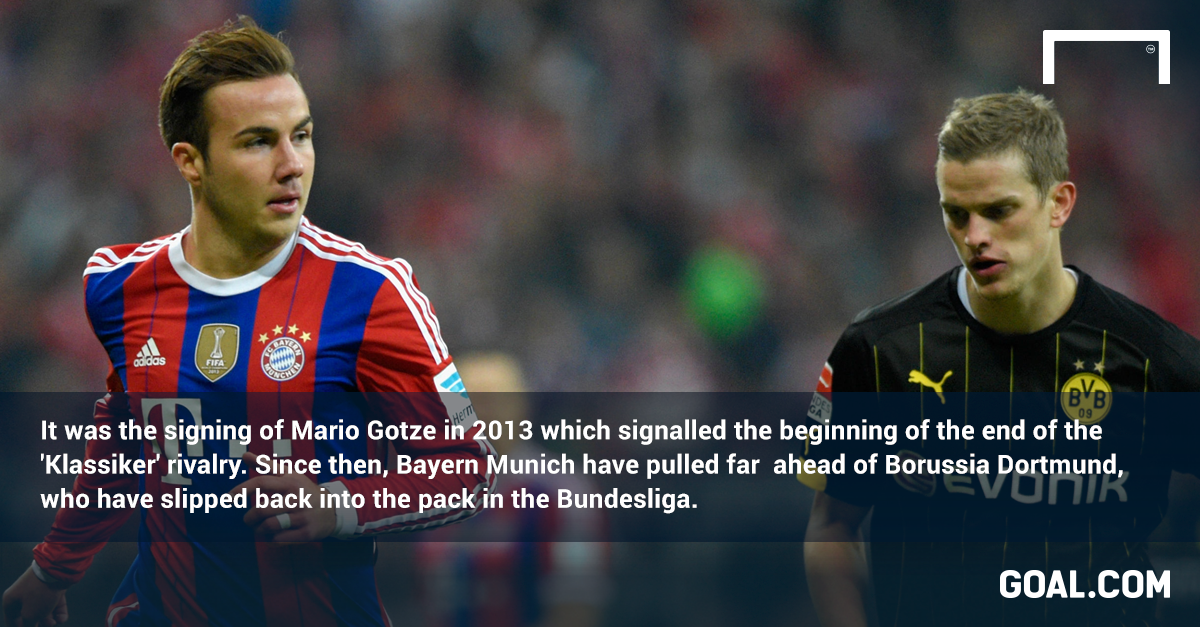 This budding rivalry, once the chief attraction of the Bundesliga, is gone now. Whatever illusion which came into being about the Bundesliga being more than a one-horse town has shattered.
Dortmund, were, for a time the second German power. They sufficiently worried Bayern to the extent that club CEO Hans-Joachim Watzke declared that Bayern wanted to "destroy" them. So it has proven.
Bayern are ruthless and that Dortmund coup has been quelled. It was the signings of Mario Gotze and Robert Lewandowski that ultimately put Dortmund back in their box. If this was supposed to be a 'Klassiker' it should have lasted longer than this.
What kind of rivalry pits the best team in the country against the 10th-best? The selling point of the Klassiker was that it featured the two best teams. It is no longer so.
This week the Bayern Head of Finance, Jan-Christian Dreesen, spoke of being able to spend €100 million on a single player if they so wished. That sort of money Dortmund can only fantasise about. Bayern are 10 points clear of second place. They are 31 clear of Dortmund. Bayern are one of the most valuable club in the world. In a word, they are unsinkable and look to Real and Barca for their battles and not down their noses to Dortmund.
Contrast their solidity to the fault line on which Dortmund were built. They were close to extinction in 2005 and the rate of improvement implemented on Klopp's watch has been unsustainable. They did not have the cash reserves to bulk out the squad and so were left vulnerable when injuries bit into the first team. When having to do without their key players, Dortmund simply cannot cope. Nor can they cope with a business model which dictates the sale of a big player every summer. Bayern have coped at various points this season without their key men.
Furthermore, Bayern, after winning their treble under Jupp Heynckes, simply tore up the blueprint and attempted to start all over again. They, not Dortmund, are the true innovators. Dortmund and Klopp, instead, have been exposed. They stood still. Dortmund can only play one way and Klopp does not possess the necessary tactical nuance to plan any alternative.
Pep Guardiola is changing the way Bayern play, which will be for the better in the long run even if there are teething problems along the way. One thing is for certain though and that is Bayern will be on equal footing, at least, when Guardiola goes in comparison to when he arrived. It is too big an enterprise to depend entirely on one man.
Klopp, though, has built the playing side in his own image. Watzke has not been able to deliver him the right players for the system in recent times, though, and made a major mistake in allowing Lewandowski's contract to expire.
This summer they look likely to lose again. Ilkay Gundogan is widely understood to be stalling on a contract offer, reportedly unhappy at the difference between what Marco Reus earns and what he earns himself.
Reus's contract extension delivered a boost to Dortmund's ailing season but the purpose of that deal was simply to remove the scandalously low buy-out clause. Now unemcumbered by that, Dortmund will feel more comfortable selling him.
Club captain Mats Hummels spoke on international duty last week of being able to see a future away from Dortmund. Reports linking him to Manchester United do not seem so far fetched. Marcel Schmelzer, Sebastian Kehl and Kevin Grosskreutz were once the filler in the squad around the talented ones. Soon they'll be all that's left.
It's a shame that Dortmund's race is run. They tried to do things properly. Their stadium is always full and they plucked players from the relative obscurity of their youth ranks or else implemented some clever scouting to unearth gems. They played a high-energy brand of football and bloodied the noses of Europe's most-established teams, including Bayern themselves.
There were league titles in 2011 and 2012. There was a European final and two DFB Pokal wins against Bayern including one, implausibly at the start of this season. All that will fade away now and all that will remain are the memories.
Bayern have had rivals before; Gladbach in the 1970s, Hamburg in the 1980s and Dortmund themselves in the 1990s. They have endured. They win a Bundesliga title about once every two years; always have and always will.
It was hopelessly romantic to think a team could come from nowhere and disrupt that hegemony. Klopp himself believed it. Bayern are too big and too powerful to stand any sustainable opposition. Dortmund have found that out to their cost.
Next year, probably without Klopp, Hummels, Gundogan and Reus, Dortmund will be back among the pack. Some other team, maybe Wolfsburg or maybe Leverkusen, will play second fiddle to Bayern before winning a title in one of the Bavarians' off years. Let's not mistake that for a rivalry.