COLUMN: The German World Cup winner has struggled as the season has gone on and does not cut the same confident figure as he did under his mentor at Dortmund

By Peter Staunton
Follow @petermstaunton
"Show the world you are better than Messi and you can decide the World Cup."
Those were the words uttered by Germany coach Joachim Low as he sent Mario Gotze into the World Cup final last year as a late substitute. Whether or not Low believes Gotze is better than Messi is beside the point. He empowered Gotze and made him believe it.
The pay-off was Germany's fourth World Cup title, delivered by a stunning Gotze volley in the second half of extra time. It looked like Gotze was heading straight for the stars.
Pep Guardiola, Gotze's club coach, also said something about Lionel Messi this week when Bayern Munich were eliminated from the Champions League by Barcelona over two legs.
"He is the best player of all time and I compare him to Pele." Ask Guardiola to compare Messi to Gotze and he would probably laugh in your face. Where Low, as well as Jurgen Klopp at Borussia Dortmund, massaged the ego of the young hot-shot, Guardiola trampled on it.
Gotze failed to start either leg against Barcelona in the Champions League semi-finals. As indicators of trust go, that is pretty damning. He played around 15 minutes in all over the two legs. Guardiola sent him on in the first leg to chase a lost cause at the very moment that Bayern were disintegrating in Camp Nou. He got a paltry three-minute run out with the tie beyond redemption at the Allianz Arena on Tuesday night.
Less than a year after his interventions claimed the famous trophy for Germany, he has been reduced to a shy wreck. But Bayern is not the club at which to sulk and feel hard done by. Either get with it or move on. Gotze only has two years left on his contract and it is hard to envisage him meriting another one at the moment.
Gotze has indeed pocketed another Bundesliga winners' medal, his fourth by the age of 22, but his season has been a washout. He was among Bayern's best players during the opening part of the campaign, creating and scoring goals and appearing to grow into the expectations placed upon him as a result of his World Cup interventions. He was even in the conversation for the Ballon d'Or at one stage given that he had assumed the mantle of Bayern and Germany's creative hub.
That seems a long time ago now.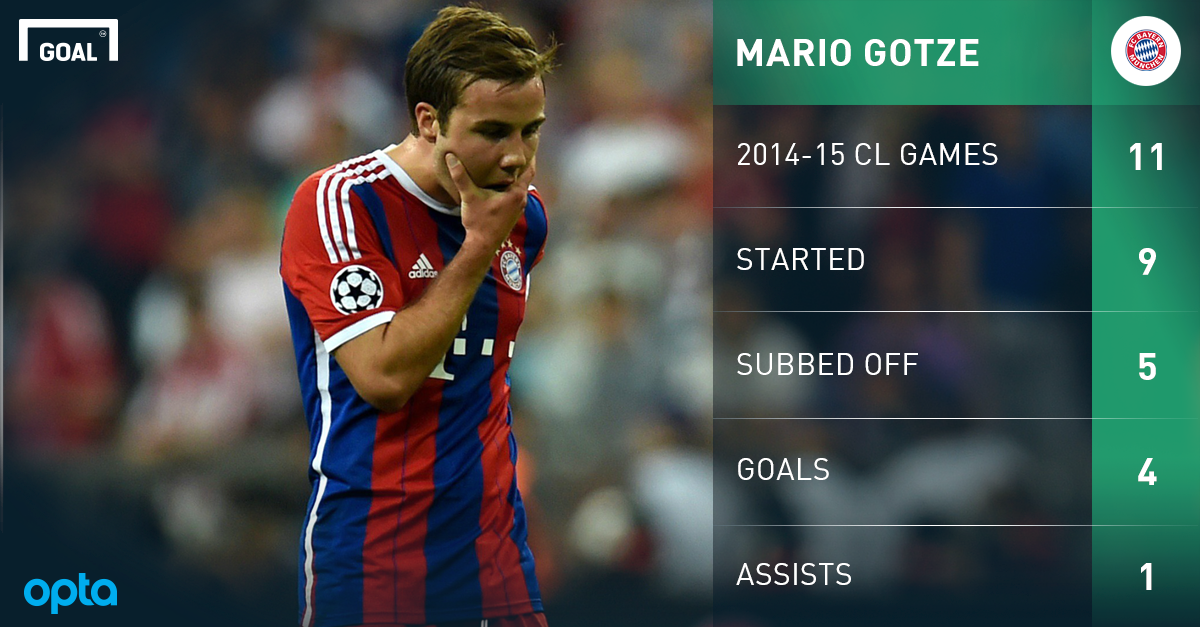 He has scored in only one league game since the winter break, the 8-0 mauling of Hamburg, and has clearly lost the trust of his coach as his meaningful first-team minutes evaporate. The coach and sporting director, Matthias Sammer, have been giving mixed messages about Gotze. In interviews they speak of his professionalism and talent and assure that he will have a part to play on the field. Then they fail to pick him.
Bayern have been ditched from two competitions in the past three weeks, the DFB-Pokal and the Champions League, and the games in which they were knocked out could be described as Bayern's most important of the season. Mario Gotze was marginalised.
Mitchell Weiser, a diligent prospect, was chosen in his place to start the DFB-Pokal semi-final defeat to Borussia Dortmund while Guardiola's decision to stodge up the centre of the pitch with up to six midfielders against Barcelona meant no place for Gotze.
Moreover, these games came at a time when Bayern were crying out for heroes. Franck Ribery has been injured most of the season while Arjen Robben's fitness failed him right at a crucial juncture. It was Gotze's time. He should have been the man to show that he could be entrusted by Guardiola to find solutions.
The entire situation has, predictably, brought the famous Bayern chorus out of the shadows. Oliver Kahn, the former goalkeeper, said that Guardiola was humiliating the young forward by giving him minutes when games were already decided.
Lothar Matthaus has also spoken out in defence of the player but qualified his praise by suggesting that his move from Dortmund to Bayern had come too early.
On the other side of the debate is Franz Beckenbauer, the honorary president, who has accused Gotze of acting "childishly" on the pitch in the manner of a talented youth team player who feels he does not need to pick up the defensive slack.
Bayern, traditionally, can be a goldfish bowl because of the constant chipping in of ex-pros. It does not suit everyone.
It is abundantly clear now that Gotze thrived more consistently in the harmonised atmosphere created by Jurgen Klopp at Dortmund.
It is not that long ago that Gotze and Robert Lewandowski were lining up for Dortmund in the Champions League semi-final against Real Madrid and contributing to a 4-1 win at the Westfalenstadion. Back then Gotze's role was more clearly defined. He played in behind Lewandowski in a devastating partnership, laying on the Pole's first of four goals on the night.
Guardiola has deliberately eschewed replicating that strategy, choosing to ignore the pair's rapidity and effectiveness on the counter. As such Gotze is not the same player. Lewandowski is not as effective either for that matter.
Gotze has played on both wings for Bayern, up front on his own, occasionally in behind the main striker and even in midfield. He cannot make his mark. What is asked of him in the Germany team, as it was at Dortmund, is better defined.
At Bayern he is stuck in a rut, a vicious cycle of diminishing confidence and lacklustre performances. With lessening game-time comes lessening confidence and lessening performances. On and on it goes. Now he only has two dead rubbers, against Mainz and Freiburg, remaining this season to show what he can do. Those may very well be his last games in a Bayern shirt.
But what next?
No team in Germany could afford him, besides Wolfsburg, but it is not Bayern's style to strengthen rivals. There is no hope of him returning to Dortmund, as CEO Hans-Joachim Watzke confirmed this week, due to financial constraints and a broken relationship with the supporters following his move in the first place.
The usual suspects overseas have been mentioned, Arsenal and the Manchester clubs in particular, but so far no solid deal has loomed into focus.
What Gotze needs is the guidance of his mentor, Klopp. The two-time Bundesliga-winning coach is on his way out of Dortmund and could yet pitch up anywhere from Real Madrid to Manchester City. Either way, Klopp tapped into his talent in a way that Guardiola could not or would not. It is time for a reunion between the coach and the player who owes him everything.
Gotze will be 23 by the time the summer is over. He is no longer the chubby-cheeked little boy who stole the hearts of Dortmund fans when he first took the stage. He is a man entering his peak with huge achievements behind him and, consequentially, expectation over his head. Maybe he is lumbering under the weight of all he has done. Four league titles, as many as Cristiano Ronaldo, as well as the World Cup.
Klopp has said that Gotze was so taken with the Bayern project because his signing was ordered by Guardiola personally. Perhaps he had visions of becoming the former Barcelona coach's new Messi. That has not worked out and Guardiola's constant showering of praise on the Argentine have proven that he believes he will never again groom another one like the four-time Ballon d'Or winner.
Mario Gotze was a the golden boy at Dortmund. As such, Klopp protected him and made sure he felt okay. At Bayern he does not get that same treatment.
Some revealing footage surfaced this week of Gotze missing a chance in Bayern training the day after the Barcelona game. He snatched at a half volley and spun it wide. It looked no big deal but he stood in his spot for about 30 seconds with his head in his hands and looking down at the ground.
You could almost see what he was thinking about; the missed chances that will have had Guardiola turning away on the bench, the naming of lineups with him again on the bench. It was all weighing heavily on his mind.
You could almost imagine Klopp coming into view to give him a quick hug and a pat about the head.
Maybe next season.