The Bundesliga title race is as tight as it has been for over a decade and this Sunday serves up a huge game at the top of the table, live on Sky Sports.
Bayern Munich, Borussia Dortmund and unlikely contenders Union Berlin are all level on 43 points after 21 games in the German top flight. This is the latest there has been a three-way tie at the top since the introduction of three points per win in 1995/96.
The Bavarians, who have won the title for the last 10 years in a row, lead the way with their markedly superior goal difference, which is 23 and 29 goals better off than Dortmund and Union respectively.
But someone is guaranteed to drop points this weekend as Bayern, Germany's perennial champions, host underdogs Union Berlin at the Allianz Arena on Sunday, live on Sky Sports; kick-off 4.30pm.
Dortmund, the last side to break Bayern's vice-like grip on the title under Jurgen Klopp in 2012, are also in action at a struggling Hoffenheim on Saturday; kick-off 2.30pm, and could move two points clear at the top should they win and their title rivals draw on Sunday.

Sunday 26th February 4:30pm


Kick off 4:30pm

Here, we take a look at the three teams battling it out at the top of the Bundesliga ahead of a pivotal weekend with the help of Sky Germany reporter Uli Kohler…
Bayern Munich
Ahead of the top of the table clash between Bayern Munich and Union Berlin, here are the top five goals from the fixture from over the years

It's nearly March and still Bayern don't have a commanding lead at the top of the Bundesliga. So what's going on at Germany's most dominant club?
Head coach Julian Nagelsmann has managed to win just two of his last six games in the league, most recently losing to Borussia Monchengladbach 3-2 last Saturday after seeing Dayot Upamecano sent off after eight minutes.
How big is Sunday's game for Bayern?
Sky Germany reporter Uli Kohler:
"I tell you this will be a real big game for Bayern Munich against Union Berlin.
"Now they are running for the title and Bayern have to win because they have the same points as Union. They have to convince the fans but also the club's bosses."
Nagelsmann appeared to be feeling the pressure after the game as he lost his temper with official Tobias Welz publicly, shouting his discontent before going into the referee's room in plain sight of the press.
The 35-year-old later apologised on Twitter: "Emotions are part of sport. And given the red card, I had to vent after the game.
"However, I have to apologise for the choice of words to the team around Tobias Welz. Unfortunately I went too far there."
What's going on at Bayern?
Sky Germany reporter Uli Kohler:
"There is a lack of concentration and in some games a lack of motivation. Bayern Munich's key players have not rediscovered the form they had before Christmas and the whole team, too.
"Before the World Cup Bayern was in incredible shape. Now, it isn't falling apart but it has been tough for them to bring it together again.
"The good thing for the fans is that for more than a decade in Germany the title race is open.
"To be a Bayern Munich manager is to always be under pressure. The Germans have a special attitude, if someone is really good and can do everything like Julian Nagelsmann, who is the most talented coach Germany has had for years, they say they are great and only positive things but if there is one fault they try to destroy them again.
"It's not that bad now but Nagelsmann is struggling because of the club, they've backed him but not enough. It is a hard position for him."

Bayern were in ripe form before the World Cup but have failed to hit their stride again, losing almost as many points (9) in the six league matches back as they had in the previous 15 games (11).
This is the German champions' lowest number of wins at this stage of the season since 2010/11, when Dortmund won the Bundesliga title. Nagelsmann doesn't want a repeat of that. Louis van Gaal, Bayern's head coach at the time, was sacked in April 2011 before the season was over.
Sunday's game against Union has taken on huge significance in Munich as Nagelsmann heads into a pivotal period of the season, which includes the second leg of Bayern's Champions League last-16 tie against Paris Saint-Germain.
Drop points on Sunday and Nagelsmann could really be under pressure.
Union Berlin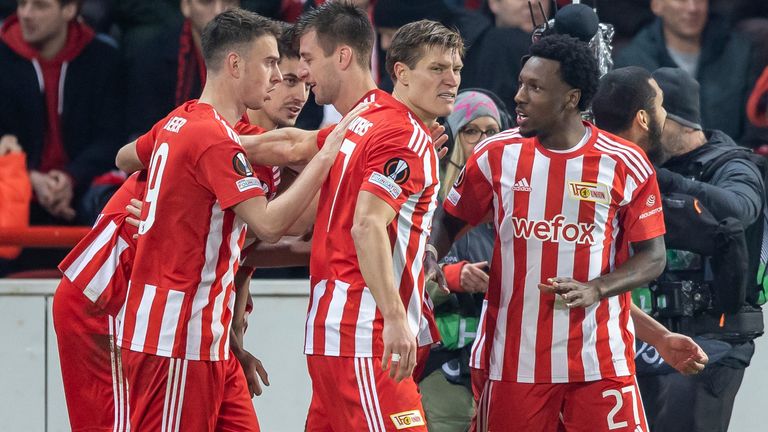 Union Berlin are the team that no one expected to be here. Promoted to the Bundesliga for the first time in the club's history in 2019, this is somewhat of a fairytale story.
But it's no accident, either. Union showed everyone just how good they are last season, clinching fifth spot in the league.
Urs Fischer, the Swiss coach in charge of Union, has worked wonders on a relatively shoestring budget to compete with Bayern and Dortmund so far into the season.
Union, who have spent around £21m on signings this season, broke their transfer record in January in a deal with Celtic for right-back Josip Juranovic worth an initial £7.5m.
How big of a surprise is it that Union Berlin are in the title race?
Sky Germany reporter Uli Kohler:
"Just remember Leicester when they won the Premier League. Nobody expected it and there are some parallels on that.
"It's a team which has been built with not much money. It is more the enthusiasm and the special players.
"The Swiss coach never his loses his temper. He doesn't care if the team loses, ties or wins. This guy is incredible, and he is one of the keys to their success.
"And this mixture of players is sometimes better as a team than a team full of great players."
Bayern, for comparison, broke their transfer record in 2019 as they purchased Lucas Hernandez from Atletico Madrid for more than £70m and have spent around £128m on signings this season.
Union head coach Fischer has created the best defence in the division behind only Bayern to give his side a solid base from which to launch a potential title-challenge. They've allowed just 24 goals this season compared to Bayern's 21 conceded.
One of their biggest strengths has been their home form. Union are unbeaten at the Stadion An der Alten Forsterei in the Bundesliga this season, a run which has seen them draw with Bayern at their peak and beat Dortmund.
Union have been less convincing on the road, but have experienced an up-tick in form post-World Cup like Dortmund and won all three of their away league games, making Sunday's trip to the Allianz a good litmus test of their title credentials.
Borussia Dortmund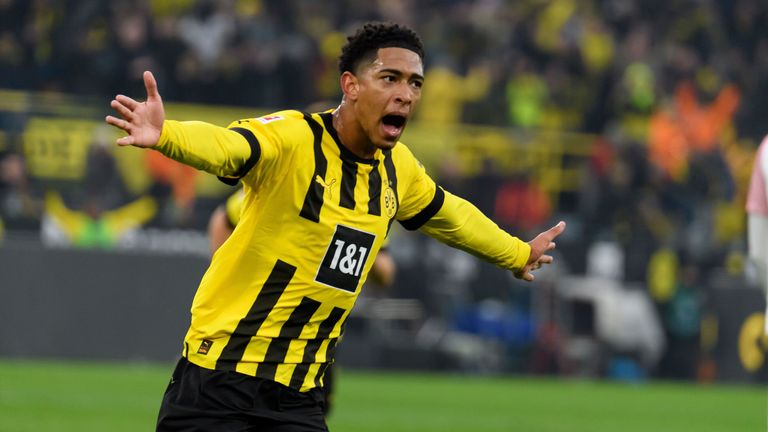 Borussia Dortmund have taken full advantage of Bayern's stuttering return to action following the World Cup by winning all six of their league matches to close what was a nine-point gap between the sides.
Edin Terzic's side are the form team in Germany and heavy favourites heading into Saturday's trip to Hoffenheim, who are on a four-game losing run and have not won since beating Schalke 3-0 in October.
Hoffenheim have home advantage but have struggled at the PreZero Arena this season, taking just 11 points from 11 games, the second-worst record in the division.
"Dortmund are Bayern's toughest opponents this season'
Sky Germany reporter Uli Kohler:
"For Dortmund, it is the first time in years that they have performed. They have always had a problem with ambition because ambition beats class. They always have class players and they didn't perform together.
"Since the World Cup their mindset is different. Now they don't just win against the better clubs, they are beating the lower-ranked teams and this is a big difference.
This was a problem before and now they have a much better mindset, which for me makes them the toughest opponent for Bayern Munich this year.
"The manager Edin Terzic is key because he had no fear about taking out big players like Marco Reus, who was a God there, and Mats Hummels because they were not performing.
"He convinced them not to blow up the team and they are still ambitious on the sidelines and ready to perform when they come on.
"Terzic has also helped improve certain players, Julian Brandt is one of those guys. He was always talented but now he has a new mindset. Brandt says it is because he has a new diet."
Dortmund have beaten all eight of the teams they have faced since the season's restart – including Chelsea in the Champions League – making them real contenders to push Bayern all the way.
Julian Brandt, the Germany midfielder, has been a revelation for Dortmund in this period. The midfielder delivering when it counts for the German club. His five goal contributions have been decisive for Dortmund in the six league games after the break.
Karim Adeyemi, the 21-year-old striker signed from Red Bull Salzburg in the summer, has been another of Dortmund's star performers scoring in all four of their last four games. However, he is now out with a hamstring injury suffered while setting up Dortmund's second goal in a 4-1 win over Hertha Berlin last time out.
With Adeyemi and Youssoufa Moukoko now unavailable due to injury, it will be a test of Dortmund's other options, including English teenage duo Jude Bellingham and Jamie Bynoe-Gittens, to see if they can step up.
Watch Bayern Munich vs Union Berlin on Sunday from 4.20pm, live on Sky Sports Action; kick-off 4.30pm.