Talks over a new deal for the 24-year-old have broken down, prompting talk that he could leave the Allianz Arena, and Goal's experts are here to debate his future
DEBATE
By Enis Koylu & Stefan Coerts
There's always a story brewing at Bayern Munich and the man who can't get his name out of the headlines at the moment is Toni Kroos.
The gifted midfielder is currently locked in a standoff with the club's hierachy over a new contract and after reacting angrily to being replaced in the recent 2-1 win over Stuttgart, he has found himself rooted to the bench – an unused substitute in their two subsequent games.
Neither club nor player have been willing to back down and with Kroos' current deal set to expire at the end of next season, he may find himself looking for a new club sooner rather than later.
A key figure in last term's treble win, a Kroos exit would be highly controversial. Should Bayern sell up? Below, two Goal experts give contrasting views as to how Bayern should deal with the situation.
"SELLING KROOS WOULD COME BACK TO HAUNT BAYERN"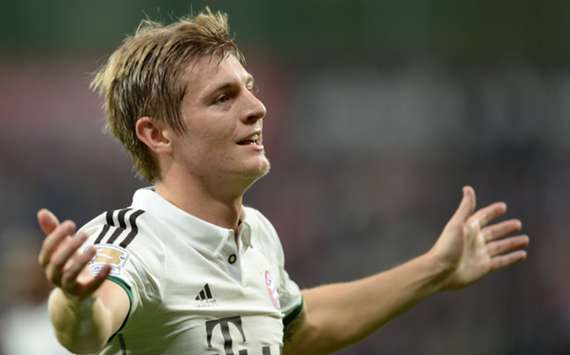 By Enis Koylu
The very idea of selling Kroos is insane. The Germany international has been in majestic form since the start of last season and had successfully ousted Arjen Robben from the first team prior to his injury against Juventus, which ended his 2012-13 campaign.
He picked up where he left off this term and, despite his meagre stats of one goal and three assists in 18 Bundesliga games, he has been vital to Bayern – keeping the play flowing in a similar way to Luka Modric at Real Madrid.
Tactically he is different to all of his midfield team-mates. He excelled as a No.10 last season, but has also proven himself when filling a deeper role. His versatility is invaluable. Thiago Alcantara, his obvious competitor for a starting spot has not convinced in a defensive role, even though his playmaking has been superior.
Kroos himself has noticed his own suitability for Pep Guardiola's football philosophy, saying: "Our style of play is a lot of fun. It really suits me that we use a lot of short passes through the middle."
At 24, he has extraordinary scope to grow. He is already one of the world's leading midfielders and if Bayern decide to sell, it would surely be to one of Europe's top clubs, meaning he could well come back to haunt them in the Champions League.
Apart from anything else, Schweinsteiger cannot be relied upon to stay fit and is approaching 30, while Philipp Lahm is entering the twilight of his career. When you have one of Germany's top young midfielders, you shouldn't alienate him. Signing a replacement would be expensive and, in all likelihood, not an upgrade.
Bayern's philosophy has long been to build a team based around their academy products and Kroos has been in Bavaria since he was 16. He has been there through the club's good and bad times and deserves better than to be exiled from the first team.
Follow Enis Koylu on

"NO ONE AT BAYERN IS IRREPLACEABLE"



By Stefan Coerts
Kroos might have developed into an important first-team player in the past few seasons, but the midfielder is by no means irreplaceable for Bayern.
This is illustrated by the Bavarians' impressive form in the second half of the 2012-13 campaign when the 24-year-old was unavailable due to injury. The Germany international missed a total of 16 games after the winter break and FCB emerged victorious on 15 occasions, drawing the other and winning the treble.
Germany legend Gunter Netzer, therefore, had a valid point when assessing Kroos' situation earlier this month.
"Kroos is playing a risky game at Bayern. He might be overrating himself a bit in a way that his wage demands do not reflect his worth to the team. He'd be wise to have a good look at the squad and re-think his own situation," Netzer stated.
A quick look at the current Bundesliga champions' current roster confirms that Kroos is indeed one of many midfielders at the club rather than the vital cog in the Bayern machine that he seemingly considers himself to be.
Philipp Lahm, Bastian Schweinsteiger, Javi Martinez, Thiago Alcantara, Mario Gotze and Thomas Muller are all capable of playing in Kroos' preferred positions in midfield and Pep Guardiola has already shown in recent games that he's happy to leave the German out of his team.
It would make perfect sense to sell Kroos at the end of this season in order to prevent him from leaving on a free in 18 months' time. With his current deal due to expire in the summer of 2015, Bayern really have no other option but to present the midfielder with an ultimatum: lower your demands and sign a new deal or be sold come June.
Follow Stefan Coerts on